Lexar Professional 1066x microSDXC SILVER Series Card Review
Author:

Dennis Garcia
Published:
Wednesday, January 6, 2021

Introduction
We don't talk about consumer electronics much in the enthusiast PC space despite there being a symbiotic relationship. For instance, many tech journalists use a PC on a daily basis but used digital cameras and mobile phones to capture video and take pictures and yet rarely discuss their equipment aside from a casual off topic discussion. Journalists are not alone either as consumers own multiple devices including drones, tablets and even the elusive Chromebook that will eventually share data with something else.
There is one thing that drives consumer electronics that is rarely mentioned in the enthusiast PC space, memory cards. While some PC users might confuse a memory card with a M.2 Drive or DRAM module the cards we are talking about in this article are built from flash memory technology and designed more for the consumer electronics space than desktop PC market.
In this review we will be taking a quick look at one of the newest cards from Lexar the Processional 1066x microSDXC Silver Series microSD card.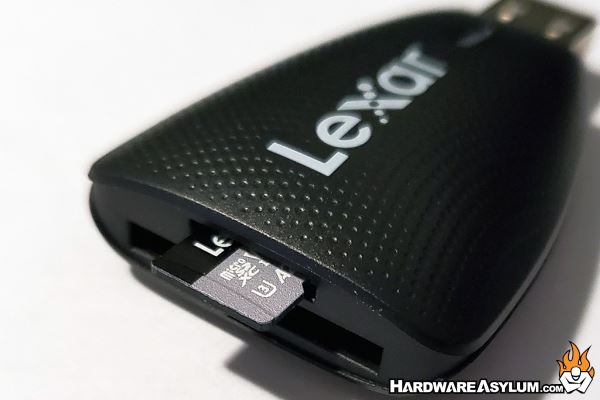 By now I'm sure everyone knows what a SD Card is and that these small flash memory cards come in three distinct sizes. SD, Mini SD and Micro SD. By my recollection SD and Micro SD are the most popular with the Micro version being not only being the smallest form factor but, also used most in devices where space is a premium such as mobile phones, action cameras and drones.
The larger variant is commonly found in larger electronics from DSLR and Video cameras to voice recorders and even car audio. While this memory platform is well established and prevalent just about anywhere the classifications, ratings and speeds are a complex bundle of numbers that can rival any memory platform found on the PC.
Features
Professional-level performance for action cameras, drones, or Android™ smartphones
Leverages UHS-I technology to deliver read speeds up to 160MB/s (1066x)1
Quickly capture high-quality images and extended lengths of Full-HD and 4K UHD with write speeds up to 120MB/s
Load apps quicker with blazing A2 speed3,4
High-capacity options –– up to 512GB
Designed for durability in harsh conditions5
Includes SD adapter
10-year limited warranty for card and one-year limited warranty for adapter (Outside of the Americas)
Specifications
Capacity: 32GB – 512GB
Speed Class: 32GB – Class 10, U1, V10, A1 / 64GB – 512GB – Class 10, U3, V30, A2
Performance: 32GB – up to 160MB/s read / 64GB – up to 160MB/s read, up to 70MB/s write / 128GB – 512GB – up to 160MB/s read, up to 120MB/s write
Operating Temperature: 0° to 70° C (32°F to 158°F)
Storage Temperature: -25° to 85° C (-13°F to 185°F)
Dimension (L x W x H): 11mm x 15mm x 1 mm / 0.43" x 0.59" x 0.04"