Cyberpower PC Fangbook X7-200 Gaming Notebook Review
Author:

Dennis Garcia
Published:
Friday, March 22, 2013

Introduction
As hardware enthusiasts we often strive to have the most powerful machine and that quest often leads us to building a full tower system with the latest hardware available. The question is what if you could build a similar system that takes up less space, is portable and also easy to use?

In this review we will be looking at just such a system, the Cyberpower PC Fangbook gaming notebook. In recent years many gamers would look past gaming notebooks for a variety of reasons. The most common of these would be luster hardware options and let's face it; large desktop replacement notebooks are neither small nor portable.

The PC Experts at Cyperpower PC have come up with a solution that might end up setting the standard for all gaming notebooks the Fangbook X7-200. The X7-200 is a mid-range system that comes with a Core i7 3630QM Ivy Bridge based mobile processor paired with a powerful nVidia GTX 675MX graphics card. Both of these options are upgradeable in steps up to a Core i7 3940XM Extreme Edition processor running at almost 4Ghz and nVidia GTX 680M mobile GPU.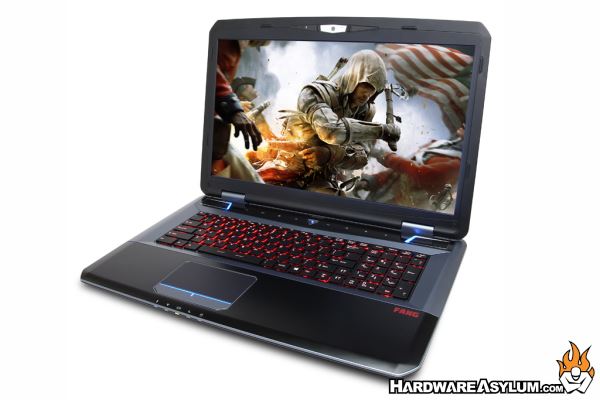 Specifications
Model: FANG GT675MX
Screen: 17.3" 1080p display
Processor: Core i7 3630QM Ivy Bridge
Memory: 16Gig 1600Mhz DDR3
Video: GTX 675MX 4GB DDR5
Motherboard: Intel HM77
Drives: 64GB SATA III SSD / 750GB 7200RPM SATA III
Optical: 8x DVD R/RW Super Multi
Audio: Built in 3D Premium Surround Sound with Subwoofer
Network: Killer Networks Wireless-N and Killer E2200 Gigabit Ethernet
Bluetooth: Built in
USB: 3x USB 3.0 / 2x USB 2.0
Battery: 9-cell Lithium-Ion
Power Adaptor: 180W full range 19.5v 9.5A
Webcam: Built in 720p
Weight: 7.90 lbs
Size: 16.85" x 11.34" x 2.17"
OS: Windows 8 64-bit
Warranty: Standard 1 Year Limited and Life-Time Technical Support
As with any system there are hundreds of things to consider from your processor choices down to what accessories you want to get. Because of this we won't criticize too much on the overall configuration of the review model but will mention the total system is just a starting point.
When you visit Cyberpower PC
one of the first things you will see after selecting the base model is the system configurator. From here you are allowed to change almost everything about the build from the processor type and video card. You can even choose to upgrade to an mSATA RAID 0 configuration for increased speed and faster load times.