Cyberpower PC Fangbook X7-200 Gaming Notebook Review
Author:

Dennis Garcia
Published:
Friday, March 22, 2013

System Layout and Specs
The Cyberpower PC Fangbook X7-200 is a rather stylish product featuring ornate embossing on the lid that almost looks like the head of a viper or the geometric floors found in many modern first person shooters.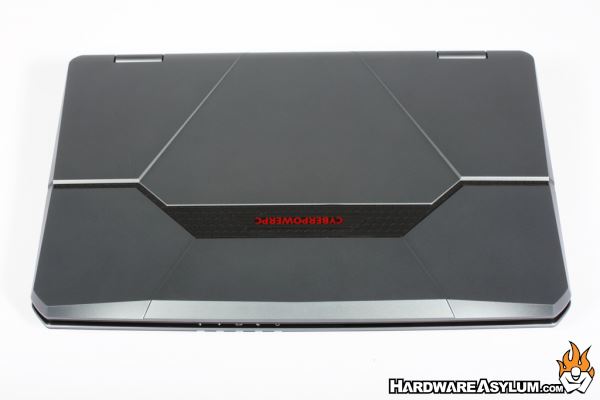 As with most laptops the accessory connections are located along the side. Starting along the left you'll find the exhaust vent followed by three USB 3.0 ports, card reader and analog audio ports for headphones, microphone and line connections.

Moving to the opposite side you'll find two more USB 2.0 connections and drive panel for the included optical drive. Our review unit came with an 8x DVD burner but you can upgrade to a 6x Blu-ray player with DVD burner option when you order a Fangbook from CyberpowerPC.

Along the back of the Fangbook you'll find many of the more static connections such as HDMI, eSATA, D-SUB, wired Ethernet, power, desk lock and intake port.

The Fangbook featured a nice angled keyboard position and large palm rest. Both make typing extremely comfortable with a fairly good wrist position.