Cyberpower PC Fangbook X7-200 Gaming Notebook Review
Author:

Dennis Garcia
Published:
Friday, March 22, 2013

Benchmarks - System
Futuremark PCMark 7
PCMark 7 is a overall system benchmark designed for Windows 7 that combines more than 25 individual workloads covering storage, computation, image and video manipulation, web browsing and gaming. The PCMark score is completely portable however to recreate it the score completely you will need almost identical hardware.

Bapco SYSmark 2012
Bapco SYSmark 2012 is a true real-world benchmarking suite and upgrade to SYSmark 2007 Preview. The new benchmark brings true 64-bit application testing along with full support for Windows 7 and Windows 8. SYSmark tests the whole system performance by running through a series of real programs while recording the results. These programs include: ABBYY FineReader pro 10.0, Adobe Acrobat Pro 9, Adobe After Effects CS5, Adobe Dreamweaver CS5, Adobe Photoshop CS5 Extended, Adobe Premiere Pro CS5, Adobe Flash player 10.1, AutoDesk 3DS Max 2011, AutoDesk AutoCAD 2011, Google Sketchup Pro 8, Microsoft Internet Explorer 8, Microsoft Office 2010, Mozilla Firefox Installer, Mozilla Firefox 3.6.8, Winzip Pro 14.5.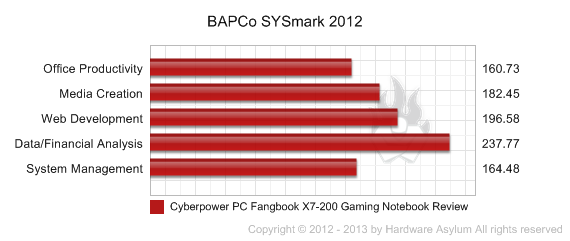 SiSoft Sandra
Sandra is a software collection of synthetic benchmarks that will give us a basic idea as to what a system is capable of. It should be noted that SiSoft numbers can sometimes vary depending on what version you have installed; these were recorded using Sandra Professional Version 19.35.2013.4




RightMark Audio Analyzer
One of the most difficult things about doing reviews is finding some kind of common ground to establish a benchmark on so that when we say something is good our readers know it is based on something they can try themselves. In the cause of audio reproduction there are too many factors to consider such as hearing quality, sound equipment (speakers) and room dimensions so we are turning to the RightMark Audio Analyzer to give us a set of audio specs. We will then use those numbers to determine what kind of audio quality you can expect.

This test was performed using a loopback cable which is basically a jack that connects the analog line-out plug back into the analog line-in. That way we can remove almost all of the variables and concentrate on what is actually being reproduced and recorded.

Specs
Frequency response (from 40 Hz to 15 kHz), dB: +0.19, -0.09
Noise level, dB (A): -81.0
Dynamic range, dB (A): 81.0
THD, %: 0.0036
THD + Noise, dB (A): -73.4
IMD + Noise, %: 0.055
Stereo crosstalk, dB: -80.0
IMD at 10 kHz, %: 0.027

General performance Very Good

Color coding indicates good to bad, Bright green = Excellent - Bright Red = Poor - Black = Good