Cyberpower PC Fangbook X7-200 Gaming Notebook Review
Author:

Dennis Garcia
Published:
Friday, March 22, 2013

Fangbook X7-200 System Performance
Our Fangbook is a standard model but even the standard model is plenty powerful for most gamers. As we mentioned the X7-200 comes with a Core i7 3630QM Ivy Bridge processor rated at 45w. The processor normally runs at 2.4Ghz but will boost up to 3.4Ghz under the correct loading conditions.

Along with the 3630QM the Fangbook X7-200 comes with a nVidia GTX 675MX graphics card featuring a core clock of 667Mhz and 4Gigs of GDDR5 memory. The physical core is similar to the desktop GTX 670 but features a lower clock speed and a few less CUDA cores/shaders.

Together these components make for a very capable gaming system that not only performs quite well but doesn't produce very much heat. In fact you have the option to fun the cooling fan at full speed, using one of the zero touch buttons but, in our testing it wasn't needed and only served to be extremely noisy. We suspect running the upgraded Core i7 3940XM Extreme Edition processor and GTX 680M combo might explain the reason for the larger cooling system.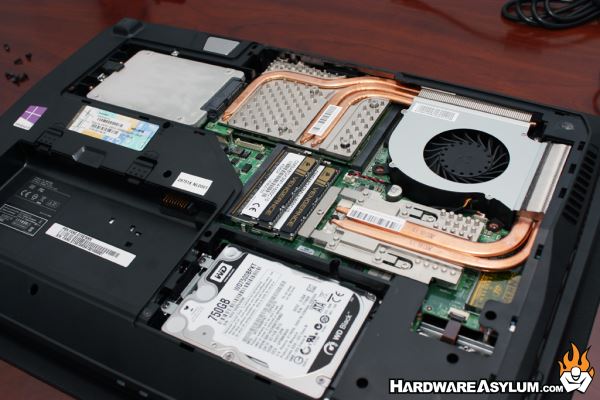 A note about testing and low gaming performance
For the best performance be sure to connect the Fangbook to the included power brick when you sit down to game. Failing to do so will disable the onboard nVidia graphics and force your game to run thru the Intel intergrated graphics solution. While Ivy Bridge graphics aren't all that bad there is a considerable frame rate difference between the two.