EVGA GTX 1080 Classified Video Card Review
Author:

Dennis Garcia
Published:
Friday, September 23, 2016

Conclusion
Overclocking is a big part of the enthusiast community so we tend to look for special products designed to help us reach our goals without having to resort to extensive board modifications. The EVGA GTX 1080 Classified is clearly a video card designed for hardware enthusiasts with a long performance based pedigree proving it can deliver.
When comparing the 1080 Classified to the other EVGA video cards you may wonder exactly what the difference is and why you would purchase one card over another. The answer is in the hardware. SuperClocked edition cards are factory overclocked and deliver amazing performance but are designed for gamers who may never tweak anything beyond the factory settings. The GTX 1080 Classified and GTX 1080 FTW are very similar, so much in fact they share the same clock speed and same ACX 3.0 cooling solution. The only real difference is the size of the VRM and maximum power draw. Ideally the attached E-Power can still be unlocked giving the Classified the potential for being the better solution.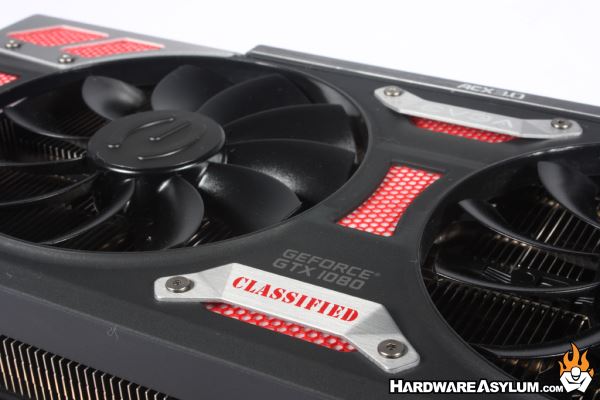 Speaking of ACX 3.0 one of the unique features found on the 1080 Classified is the new ornate cooling shroud and integrated RGB LED controls. When using EVGA PrecisionX you'll get to choose from four different lighting effects along with a color slider to fine tune the color you are after. Much to my surprise the 1080 Classified remembers what has been configured allowing your selections to be active every time the card is powered up. I even noticed that custom fan curves are also stored on the card giving you some relief from the default Zero noise settings better known as a space heater.
Overclocking performance was better than expected. I used the familiar EVGA PrecisionX to overclock this video card and was able to get the GTX 1080 Classified it to run at 2100Mhz core and 5500Mhz memory with a +110Mhz gain over the base clock. While the resulting number is quite impressive it was done using the Boost 3.0 technology which is unpredictable at best. For instance I could get the card to run at +140Mhz however depending on what benchmark was run the boost clock varied between 2077Mhz and 2125Mhz which often allowed the GPU to hit the clock ceiling and crash the driver. Still, anything near 2100Mhz is good when dealing with Pascal so I'll take it.
Good Things
Low Power Consumption
Large 14+3-phase PWM
Backplate Included
Great Looking ACX 3.0 Cooler
GPU Boost 3.0
Quiet Operation
Dual BIOS
RGB LEDs
Excellent Cooling Performance
Bad Things
Test leads not included
Great looking ACX 3.0 cooler
Disabled fans can impact game performance due to changes in boost
Hardware Asylum Rating