EVGA GTX 960 Super Superclocked Video Card Review
Author:

Dennis Garcia
Published:
Thursday, January 22, 2015

Introduction
As hardware enthusiasts we realize two basic things. The first is that the systems we build are often overkill for gaming and second that you can game on almost anything. Of course there is a sweet spot when it comes to gaming hardware where you pick a video card that provides decent performance at your monitor resolution and is affordable.
In this review we will be looking at the new EVGA GTX 960 Super Superclocked video card. This card is based on the NVidia GTX 960 and positioned to be the new performance chip for mainstream gaming.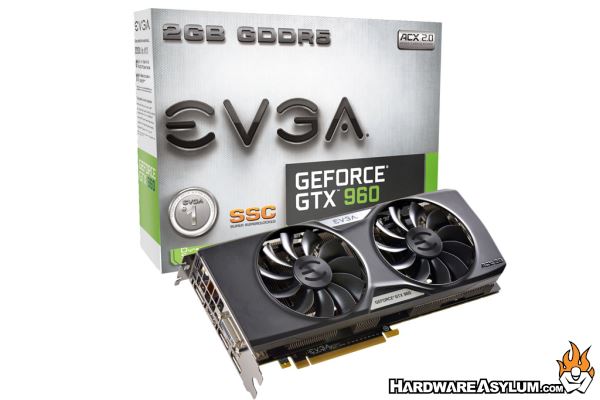 The Super Superclocked (SSC) card featured in this review is the fastest GTX 960 that EVGA offers in a pool of six different product skus. Each is designed for different segments of the market from MiniITX to mainstream gaming. All of the cards feature the new ACX 2.0 cooling solution and are available in both single and dual fan configurations.
SuperSC Specifications
Core Specs and Speeds
CM206 Core
CUDA Cores 1024
Base Clock 1279 MHz (oc)
Boost Clock 1342 MHz (oc)
Memory Clock 7010 MHz
Memory
Total Video Memory 2048MB GDDR5
Memory Interface 128-bit
Total Memory Bandwidth 112.16 GB/s
Texture Filtering Rate (Bilinear) 81.9 GigaTexels/sec
Physical
Connectors 1 x DVI-I / 1 x HDMI / 3 x DisplayPort
Form Factor Dual Slot
Power Connectors One 8-pin
Recommended Power Supply 400 Watts
Thermal Design Power (TDP) 120 Watts
Thermal Threshold 95° C
From a GPU specification standpoint the new GTX 960 looks like a GTX 750Ti with more CUDA cores.
GPUs in the gaming "sweet spot" are the ones most popular based on the latest Steam Hardware Survey from Valve. In fact, the #1 and #2 GPUs in the Steam Hardware Survey are 60-class GeForce GPUs (GTX 660 and GTX 760) with the GTX 660 taking the top spot.
Compared to the GeForce GTX 660, the GeForce GTX 960 represents a tremendous upgrade and supports the latest graphics features, including VXGI and MFAA, as well as next-generation graphics effects that will be found in Microsoft's upcoming DirectX. (DX12)
In terms of performance, the GeForce GTX 960 is 60% faster than the GTX 660, and delivers 2x the power efficiency. The performance advantage allows gamers to use DSR and breathe new life into their games. While the GeForce GTX 660 also supports DSR, it doesn't have the horsepower to provide a sufficient frame rate for 4K DSR to work properly.