EVGA GTX 960 Super Superclocked Video Card Review
Author:

Dennis Garcia
Published:
Thursday, January 22, 2015

Super Superclocked Uncovered
Despite the size of the ACX 2.0 Cooling solution there are only 4 screws holding the cooler to the PCB and two power connections Four spring screws around the GPU hold the cooler in place and Removing these will allow the ACX to be removed and expose the components below.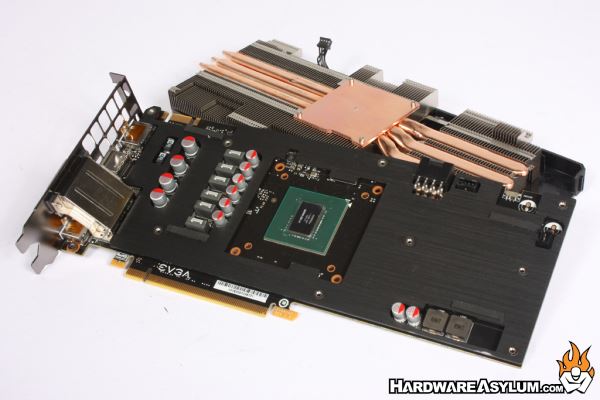 The EVGA ACX 2.0 cooling solution is a heatpipe based cooler comprised of three copper heatpipes radiating from a single GPU cold plate. One of the reasons this cooler is so efficient stems from its dedication to keeping the GPU cool while the underlying heat spreader is handles the lower power components like the VRM and memory chips.

Unlike some of the competitor cooling solutions the ACX cooler is configured to cool in stages. The primary stage is the fan located directly above the GPU, this is where the bulk of the heat travels and happens to be the hottest part of the heatsink. Once that side becomes saturated the longer pipes take over and start removing the excess heat.
The straight pipe design is said to be more efficient and comes with large diameter pipes for more capacity.
One of the limiting factors that determine how much a video card can be overclocked is the size of the reference VRM. On the EVGA GTX 960 SSC you will find a total of 6+2 power phases with some dedicated to the GPU and others tasked with providing power to the memory and PCI Express.
Near the power plug you will find a familiar BIOS switch that allows you to choose between the silent (dBi) and SSC performance modes for the GTX 960 SuperSC. The default configuration is Silent and will disable the fans when card temperatures are below the thermal threshold.