EVGA GTX 960 Super Superclocked Video Card Review
Author:

Dennis Garcia
Published:
Thursday, January 22, 2015

Conclusion
When searching for a new video card you are are often presented with a wide variety of things to contend with from overall performance and price to which cooling method matches my style of gaming and overclocking. If you look at all of the GTX 960 products you have two basic choices. You can either go with a reference designed card as released by NVidia or select one of the hot-clocked editions like the EVGA GTX 960 Super Superclocked or any of the other six versions. Of course the SSC edition will give you the best out of box performance both from a cooling standpoint and raw performance.
In doing this review we discovered a few things. The first is that Maxwell tends to max out at ~1500Mhz regardless of the GPU core. Our EVGA GTX 980 Classified topped at 1555Mhz and do did this card. The next thing we noticed was that the ACX 2.0 cooling solution really does a great job at keeping the GPU cool. Load temps stayed well below 50c and while temperature drops were not instant they were never a concern.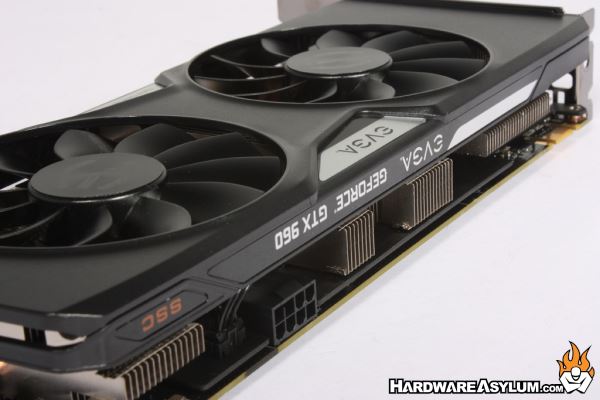 If you looked at the cooler the large copper cold plate over the GPU is the reason for this. The large copper mass is designed to increase capacity and make the cooler more efficient. It does make the heatsink respond slower but is also the primary reason why EVGA can turn the fans off at idle and run this card with a zero noise footprint.
"Sweet Spot" For Gaming
NVidia claims that the 60-series cards are the sweet spot when it comes to gaming video cards and the GTX 960 is a good example of that. In our benchmarks every game was near or above 60FPS average at 1080p with all of the quality settings turned on that is very impressive. This extra performance can really change the visual aspect of games and in some cases even allow you to render a 4K image which is then scaled down to match your monitor resolution. (DSR: Dynamic Super Resolution) Not only will this give you a sharper picture when using the GTX 960 but has the same performance impact as enabling 8xMSAA on the GTX 660 which is too slow for DSR.
Good Things
Low Power Consumption
6+2 phase PWM
Great Looking ACX 2.0 Cooler
GPU Boost 2.0
Quiet Operation
Excellent Overclocking (1565Mhz/2003Mhz on Air)
dBi and SSC BIOS Options
Bad Things
Only a single DVI
No DisplayPort to DVI adaptor
Hardware Asylum Rating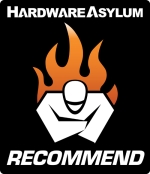 EVGA GTX 960 Super Superclocked Video Card Review
Recommend
https://www.hardwareasylum.com