MSI GTX 660Ti Power Edition OC Video Card Review
Author:

Dennis Garcia
Published:
Thursday, August 16, 2012

Introduction
An interesting thing happened shortly after the launch of the Kepler based GTX 670, gamers and computer enthusiasts began flocking to the NVidia Facebook page demanding for more information on the GTX 660Ti asking things like, when will it be released? and what the specs would be. Mind you this was long before editors were briefed and even before chips had begun shipping to board partners.

Well, after three months of waiting the new x60 series chip has been released dubbed the GTX 660 Ti. This new chip is based on the same Kepler architecture and is almost identical to the GTX 670 with one key difference, a revised memory controller.

In this review we will be looking at a new video card from MSI called the N660Ti-Power Edition OC. This card is factory overclocked and designed to take advantage of the Twin Frozr IV cooling solution. As with higher end MSI video cards you get the option of triple voltage control when using MSI Afterburner.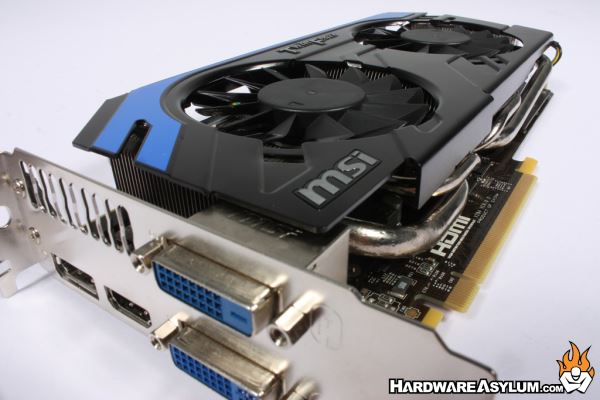 Specifications
Graphics Processing Clusters 4
SMXs 7
CUDA Cores 1344
Texture Units 112
ROP Units 24
Base Clock 1019 MHz
Boost Clock 1097 MHz
Memory Clock 6008 MHz
L2 Cache Size 512KB
Total Video Memory 2GB GDDR5
Memory Interface 192-bit
Fabrication Process 28 nm
Thermal Design Power (TDP) 150 watts

As was mentioned before the GTX 660Ti is basically a revised edition of the GTX 670 with three 64-bit memory controllers that can support mixed density memory modules. This allows the card to run with a 192-bit 2GB frame buffer. GPU Boost is still active on the GTX 660Ti and typically scales with the base clock which is further enhanced (or reduced) by the power target slider.

Gaming features are identical to other Kepler based GPUs including the popular Adaptive VSync and game engine based TXAA. All of this makes it sound like you are getting the power and features of the GTX 670 at a fraction of the cost. Or is it?