Nvidia GTX 1080 Ti Founders Edition VIdeo Card Review
Author:

Dennis Garcia
Published:
Thursday, March 09, 2017

Introduction
It has been almost a year since NVIDIA launched their 1000 series graphics cards and that launch sparked a worldwide upgrade campaign that not only made the NVIDIA stock skyrocket but also created a worldwide shortage of GPUs. The huge demand was sparked by the new Pascal architecture which is not only the fastest GPU on the market but also the most power efficient.
In this review I'll be looking at the latest release in the NVIDIA Pascal lineup the GTX 1080 Ti. Everyone knew this card was coming and was first predicted shortly after the launch of the Titan X Pascal. Titan X was the first card to use the entire Pascal core but was designed for professional applications and gamers with really deep pockets. The GTX 1080 Ti is a more mainstream version with plenty of power at only a fraction of the cost.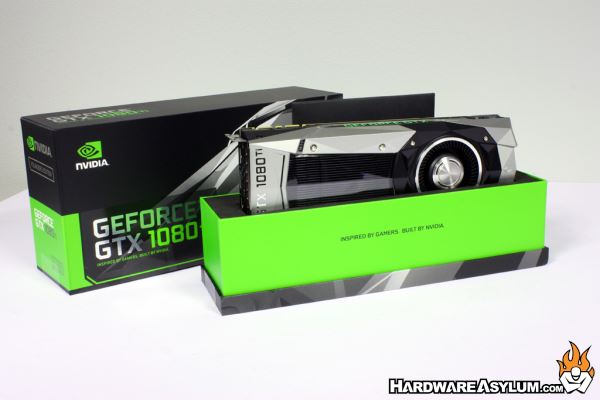 The Nvidia GTX 1080 Ti is claimed to be faster than the Titan X Pascal even though it has a few dings on paper.
Specifications
Core Specs and Speeds
Graphics Processing Clusters 6
Streaming Multiprocessors 28
CUDA Cores (single precision) 3584
Texture Units 224
ROP Units 88
Base Clock 1480 MHz
Boost Clock 1582 MHz
Memory
Memory Clock 5505 MHz
Memory Data Rate 11 Gbps
L2 Cache Size 2816K
Total Video Memory 11264MB GDDR5X
Memory Interface 352-bit
Total Memory Bandwidth 484 GB/s
Texture Rate (Bilinear) 331.5 GigaTexels/sec
Process
Fabrication Process 16 nm
Transistor Count 12 Billion
Physical
Connectors 3 x DisplayPort
1 x HDMI
Form Factor Dual Slot
Power Connectors One 6-pin, One 8-pin
Recommended Power Supply 600 Watts
Thermal Design Power (TDP) 250 Watts
Thermal Threshold 91° C
Looking at the specs we have a full Pascal processing core of 3584 CUDA cores which is the same as a Titan X Pascal however the GTX 1080 Ti only comes with 88 ROP Units (8 Less) and 28 Streaming Multiprocessors (2 Less).giving the GPU slightly less processing power. Combine that with 11GB of GDDR5X memory (1 Less) which is matched with a 352 Bit memory interface (32 Less) and you can easily see how the two GPUs are different.
Overall the differences are minor should give the GTX 1080 Ti a slight disadvantage over the Titan X Pascal however, the Core and Memory clocks are higher on the GTX 1080 Ti and is how they make up for the loss in processing power.
In this case I can once again applaud factory overclocking for making the lives of enthusiasts better, and this time it comes directly from NVIDIA. #goodjob