Nvidia GTX 1080 Ti Founders Edition VIdeo Card Review
Author:

Dennis Garcia
Published:
Thursday, March 09, 2017

Conclusion
As a PC hardware enthusiast I get super excited when new technologies launch and let's face it Pascal was pretty damn cool. At launch NVIDIA announced two heavy hitters with an amazing price point and performance that was off the charts. This created a sort of hardware land rush that ended up with a worldwide chip shortage and lasted for quite a long time. Actually long enough for me to forget to check and interestingly enough after the release of additional variants of the Pascal architecture including the GTX 1060, GTX 1050 and Titan X Pascal. Now, if anyone was paying attention they will have noticed a huge gap in the chip architecture between the current GTX 1080 and the Titan X Pascal indicating that "something" was coming and would likely have more than 2560 CUDA cores.
In this review we looked at the NVIDIA GTX 1080 Ti Founders Edition graphics card that effectively fills the gap between the high-end GTX 1080 and professional grade Titan X. It does so in a very interesting way by using the Titan X GPU and disabling with a few ROP and SMX units. To compensate for this the GDDR5X memory clock was raised to deliver 11Gbps of memory bandwidth and was matched with the 1480Mhz baseclock.
While this might sound like a cluster of different specifications it means we are given a full Pascal GPU and plenty of processing power for a fraction of the cost. Sadly, I was unable to test the card against a proper Titan X Pascal but, according to the numbers a single GTX 1080 Ti can be faster in certain situations.
Speaking of performance I was rather amazed at how well the card performed. Out of the box I was greeted with a very silent running video card that never really spun up beyond a whisper despite repeated 3DMark benchmark runs. Of course the cared did get quite warm but stayed well below the thermal threshold and even boosted up to 1873Mhz for all of the stock tests.
Of course overclocking is a big part of the PC enthusiast world and in addition to the +400Mhz boost clock I was able to get the card to run at 2012Mhz giving me an effective overclock of +550Mhz if you disregard the boost clock completely. (Which you should never do). A big contributing factor to the overall performance of the GTX 1080 Ti is memory bandwidth and frame buffer size. The 11GB of memory can help the card run at 4K resolutions and is something you can noticed in our benchmarking results. Additionally the 11Gbps memory bandwidth ensures data can get processed quickly and wouldn't you know it there is still room to overclock the GDDR5X modules and get a few extra points.
Overall I'm really excited about the NVIDIA GTX 1080 Ti Founders Edition and its ability to deliver some amazing performance. I'm also excited to see what the board partners can do with the GPU given that Titan X Pascal was off limits to custom designs.
Good Things
Full Pascal at Decent Price
7-phase 2x dual-FET VRM
Solid Cooling Solution
GPU Boost 3.0
Quiet Operation
Excellent Cooling Performance
Great Overclocking Fun
11GB Frame Buffer Memory
Amazing High Resolution Performance
Bad Things
No onboard DVI-D
Decorative over functional backplate
Hardware Asylum Rating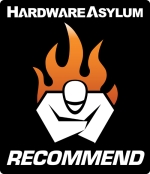 Nvidia GTX 1080 Ti Founders Edition VIdeo Card Review
Recommend
https://www.hardwareasylum.com