Nvidia RTX 3080 Ti Video Card Review
Author:

Dennis Garcia
Published:
Wednesday, June 2, 2021

Introduction
In a world driven by performance and controlled by a global chip shortage we have the next iteration in the NVIDIA RTX lineup. This product might be one of the worse kept secrets in the GPU world as enthusiasts prophesized its emergence shortly after the launch of the RTX 30-Series. The new GPU was one of the subjects we talked about on "The Funky Kit Show Ep 114" and talked about extensively on the Hardware Asylum Podcast Ep 123.
While we have the global launch for the RTX 3080 Ti the GPU landscape is currently tarnished with the ongoing threat of Crypto Miners looking to make a fast buck on the Crypto Ponzi/MLM scene and, with the promise of real dollars behind the deals they are going to great lengths to thwart the system to steal away the GPUs designed to play games the NVIDIA way. As a result, the already short supply has driven up demand along with prices making the already expensive 30-Series RTX cards even more expensive.
However, with the launch of the RTX 3080 Ti we have a glimmer of hope that supplies will improve and we can all can get back to playing games.
In this review I'll be looking over the NVIDIA RTX 3080 Ti. This is the new flagship product in the RTX 30-Series lineup that can offer near RTX 3090 performance and designed to be the top of the line product available to the consumer market. For this review I will give you my impressions of the card, show some basic performance benchmarks and do a little overclocking.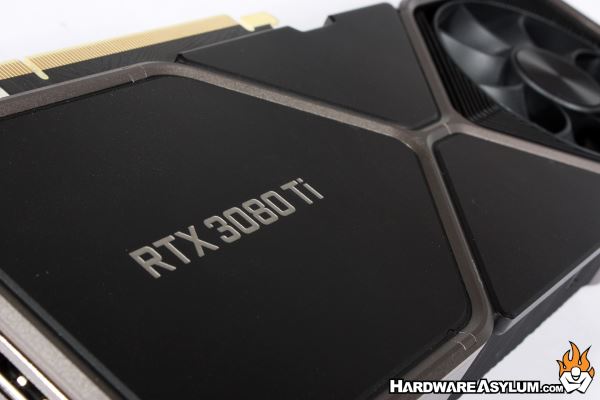 This is the Founders Edition card available from NVIDIA. You can fully expect that board partners will come out with their own versions of the RTX 3080 Ti shortly after launch. (like maybe 10min after or, likely before since few understand the concept of time)
Let's start with the specifications
Specifications
GPU GeForce RTX 3080 Ti (Founders Edition)
SMs 80
CUDA Cores 10240
Tensor Cores 320 (3rd Gen)
RT Cores 80 (2nd Gen)
Texture Units 320
ROPs 112
GPU Boost Clock 1665 MHz
Memory Clock 9500 MHz
Total Video Memory 12 GB GDDR6X
Memory Interface 384-bit
Memory Bandwidth 912 GB/s
TGP 350 Watts
As with most NVIDIA graphics cards the GPU Boost Clock might be listed at 1665Mhz but, that number varies depending on your environment. If your computer chassis is well ventilated the boost clock will likely be higher. Likewise, the board partners will also offer "hot clocked" RTX 3080 Ti cards with increased Boost Clocks and much better overall performance.
About the NVIDIA RTX
The NVIDIA RTX is much more than a single GPU as it is comprised of three different chips designed to process different aspects of your games to not only accelerate performance but to also make them look better.
CUDA Cores are what has driven NVIDIA graphics for over 15 years.
RT Cores handle real-time ray tracing which can bring realistic lighting, shadows and effects to games by enhancing image quality and immersion beyond the typical "lowest common denominator" model that game developers typically follow.
Tensor Cores are the AI Brains of the GeForce RTX GPU and can accelerate the linear algebra used for deep neural networking processing and power the AI features such as NVIDIA DLSS and NVIDIA Broadcast. DLSS also can give a major boost to framerates and provide more detail in every scene.
NVIDIA offers a number of technologies to help boost game performance and most of them have been on the market for quite some time. NVIDIA Reflex works with G-SYNC to optimize performance in competitive games, NVIDIA Broadcast uses AI to offer a GPU Hardware encoder to make streaming games faster and more efficient while also monitoring background noises to remove unwanted noise including dog barks and those annoying sirens, NVIDIA Studio is an RTX Accelerated Content Creation platform which work with popular software packages for faster rendering and better performance.
All of this performance and the ability to crunch numbers is why NVIDIA RTX is one of the fastest GPUs you can buy. Ironically, this is also why the cards have been gobbled up by Crypto Miners along with being the cornerstone for the NVIDIA Grace platform which will offer unprecedented AI processing power in the datacenter. I'm not sure if Grace will be hosting any websites but, could easily accelerate YT video processing and handle the millions of processes orchestrated in the modern cloud.