Nvidia RTX 3080 Ti Video Card Review
Author:

Dennis Garcia
Published:
Wednesday, June 2, 2021

A Question about Heat
The new RTX 30-Series Founders Edition heatsink looks amazing and on paper the flow through the card seems to offer a very attractive airflow path. However, I have noticed a couple things that make this cooler one of the worse I have ever used.
The first is temperature, And this is a problem with ALL RTX cards regardless of manufacturer, as they all run HOT. The reason for the extra heat is the global quest to have a silent running computer. Unlike when older video cards the excess heat is not a bad thing and the silicon is designed for it. However, after running a number of benchmarks the surface of the GPU cooler can be over 50c and the areas where air is exhausting can be well over 60c.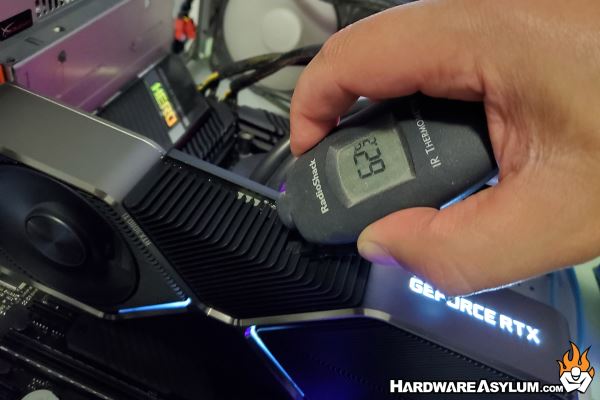 Now imagine a component (this video card) belching out exhaust air at 60c in the confines of a gaming chassis. If your case does not vent well your ambient temperatures start to rise and you have a recipe for clock throttling.
What is interesting is that while the card operates with a silent fan curve you actually need to double your case cooling which also increases the noise floor.
The second issue I have is how GPU temperature impacts other components on your motherboard. I am using the Maximus XII Hero from Republic of Gamers and directly under the primary PCI Express slot you will find two heatsinks for NVMe drives. These heatsinks are designed to regulate the drive temperature but cannot work due to the heat coming off of the RTX 3080 Ti.
After a short gaming session, the surface of these heatsinks is well over 50c and I'm not even using an NVMe SSD!!
Normally in this instance I would recommend that the card be mounted vertically so the heat source can be relocated however, the second fan on the Founders Edition GPU blows away from the card and would, in effect, be forcing 60c exhaust air directly over your memory modules and any components you have behind the GPU.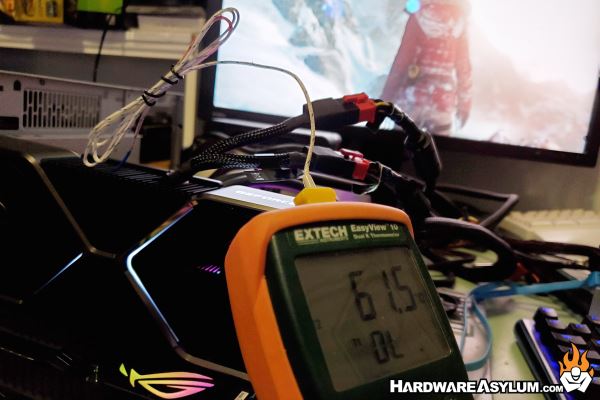 Heat is just part of the formula and it will continue to get worse as the power of the GPU rises. Knowing how a heatsink is designed helps you, as a builder, design systems to contend with these challenges and make informed decisions going forward.
To be honest, I would rather see a traditional dual or triple fan cooler on the RTX 3080 Ti Founders Edition over this elegant monstrosity for the simple reason, it works without causing too much collateral damage. Now, I know most aftermarket coolers also exhaust "down" on the motherboard but the majority of the air moves up and away from the card making it a more desirable solution.