Viotek GNV32DB Curved Gaming Monitor Review
Author:

Dennis Garcia
Published:
Friday, November 20, 2020

Monitor Assembly
As with most components in the modern world, some assembly is required. For the Viotek monitor the process is rather straight forward.
First thing is to remove the mounting bracket. This will expose the red light ring and the location where you would install the extended mounting screws if you wanted to use an external stand or wall mount.
Since we will be using the included hardware lets continue.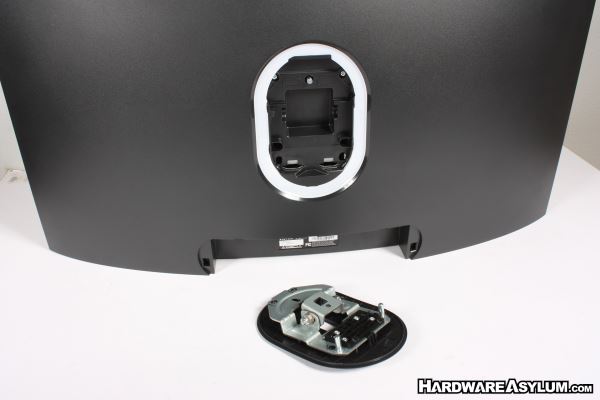 Next attach the vertical stand to the boomerang shaped base with the included screw.
The vertical post has a notch which will lock the post into the bracket.
You'll secure this with two screws and at which point you'll be ready to attach it to the panel.
The suggestion from the manual is to turn the panel over and attach the monitor stand. That gives you more control over attaching the mounting plate and less chance that you will drop the panel.
When it is locked into place you can turn the whole unit over and you'll be done.
As you will have seen the stand is not adjustable vertically or is allowed to spin. You are allowed to tilt the panel 5 to 15 degrees to match your seating position.