Viotek GNV32DB Curved Gaming Monitor Review
Author:

Dennis Garcia
Published:
Friday, November 20, 2020

Introduction
A hot and contested topic in the enthusiast hardware world is how to build the best gaming PC. YouTube channels love to tell you how to build a gaming PC on the cheap and while I find that to be nothing more than clickbait the truth is a good portion of the market is looking to stretch their budgets. In the past I would have called this the "upgrade cycle" which balanced on the premise that the hardware you buy now can be used far into the future and slowly upgraded when needed.
In this review we will be looking at the Viotek GNV32DB Curved Gaming Monitor. The monitor is one of the few items in your gaming battle station that doesn't get much love. It is one of those items that once you buy one it tends to stick around for the long haul. It is also often overlooked when planning your builds. Monitors have typically been one of the most expensive items to acquire leading most gamers to buy inadequate panels just to finish their builds and then have to deal with poor system performance.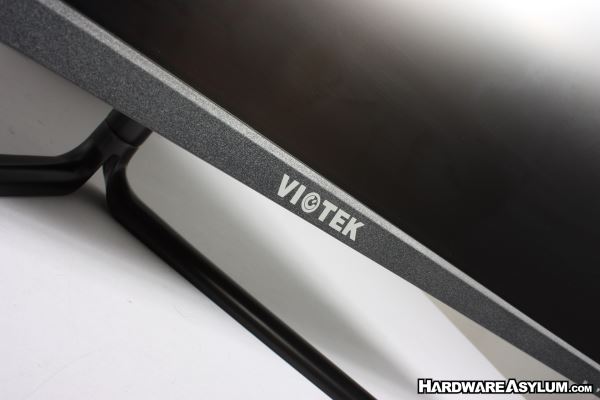 Much like the mouse and keyboard your monitor is the primary window into what your PC is doing. You could have a top of the line processor, the latest video card and a monster motherboard only to have your gaming immersion broken by a 22inch 1080p 60hz budget monitor that you cannot afford to replace.
While I might consider myself a bit of snob when it comes to monitor selection my goal it isn't to get the best gaming performance but rather the best fit for the work I do on a regular basis. Of course gaming is a small part of it but I tend to focus on things like resolution, adjustability and color rendering leaving most everything else to be a secondary "nice to have". The Viotek GNV32DB touches on most of these concerns and surprises me with a few others.
Features
BINGE, BATTLE OR BUSINESS — Our VA panel delivers brilliant, detailed graphics with a balanced color output. Whether playing games, watching movies or working from home, you can expect beautiful true-to-life images and cinema-quality video.
FLICKER-FREE VIDEO — Video conferencing never looked so good! The QHD monitor resolution delivers optimal pixel performance. A great complement with the super-fast 144Hz monitor refresh rate for smooth video with zero dropped frames.
ENHANCE YOUR PLAYSTYLE — A monitor won't make you a gaming pro. But it will help hone your gameplay and eliminate technical obstacles so you can play harder and better. AMD FreeSync for liquid-smooth gameplay; GAMEPLUS crosshairs for direct hits, every shot.
YOUR PERSONAL GAMING EPICENTER — This 1440p monitor can be your very own command station, able to connect to a wide variety of devices using DisplayPort or three HDMI monitor ports. Use the 3.5mm audio out to set up the perfect home theater.
BEST-IN-CLASS SUPPORT — We don't play with dead pixels – neither will you! New VIOTEK gaming PC monitors are protected by our Zero-Tolerance Dead Pixel Policy and 3-Year Limited Warranty, fully backed by a U.S. company.
Specifications
Colors: Black
Refresh Rate: 144 Hz
Resolution: QHD 1440p
Screen Size: 30" to 32"
Panel Type: VA Panel
Height Adjustable: No
Tilt Angle: -5° – 15°
Dimensions: 28.05*19.9*8.91in
Weight: 15.58 lbs
Speakers: No
Exterior LEDs: Yes, Red
VESA Mountable: Yes, 75x75mm
Kensington Lock: No
Cable Management: No
Voltage: 100-240VAC,50/60Hz,1.5A
Power Consumption (Typical): 46W
Power Consumption Max: 70W
Screen Size (Diagonal): 32"
Monitor Type: Curved
Curvature Radius: 1500R
Glare Protection: Yes
Display Type: VA
Widescreen: Yes
NTSC: 85%
Viewing Angle: H178°/V178°
Dot/Pixel Pitch: 0.0908 x 0.2724 mm
Display Colors: 16.7M colors
Brightness: 350cd/m2
Contrast Ratio: 3000:1
Dynamic Contrast Ratio: 1000000:1
Gameplus: Yes
FreeSync: Yes
HDR: No
Audio In: No
Audio Out: Yes
Aspect Ratio: 16:9 Widescreen