Computex 2011 Day 3
Author:

Dennis Garcia
Published:
Thursday, June 09, 2011

Introduction
Normally we have a full 4 days of things to talk about but since our Day 1 actually had scheduled meetings things got compressed. So much in fact that by Friday I was out of people to talk to! Day 3 on the other hand was quite busy and went a little like this.
PC Cooler
The trade show environment is littered with potential contacts it is just a matter of finding the right person to talk to, and making sure what they have to offer meets your needs. As I wandered around (wasting time before my first scheduled meeting) I noticed the cooler pictured below.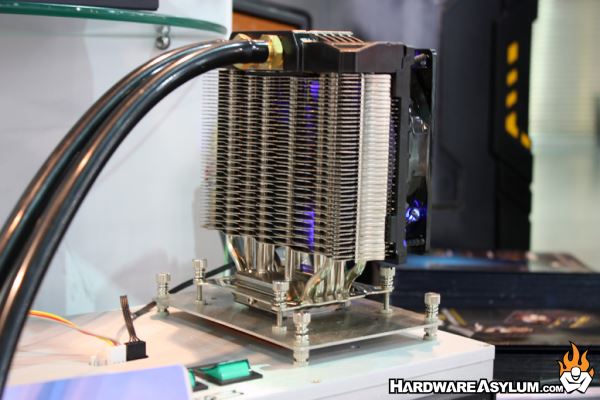 This is a hybrid cooler design where the center of the heatsink is a waterblock and then flanked on both sides by a series of heatpipes. The design allows them to get the best of both worlds between water and air cooling. You can also choose how much cooling you need for your situation.

According to the documentation the system can dissipate 500w of power. What we don't know is what the resulting CPU temperature would be.

PC Cooler had several other heatsinks on display. This tower design looks very promising and surprisingly similar to the Thermolab Baram.