Custom Painting a Thermaltake Core V51 Casemodding Project
Author:

Dennis Garcia
Published:
Monday, February 15, 2016

The First Coat - Sealer
The first paint coat was a sealer primer that would cover the existing paint and give the new color something to stick to. This is a very important step as any errors at this stage will only amplify as more coats get applied.
Here are the raw parts. Notice I didn't prep the surface at all, this is another benefit to using non-sandable sealer.
Sealer is designed to be applied over existing paint and doesn't do to well when applied directly to plastic. For this I needed to apply some adhesion promoter about 10min before applying the sealer. I was a little skeptical at first but the plastic accepted the sealer without any problem and paved the way for the rest of the project.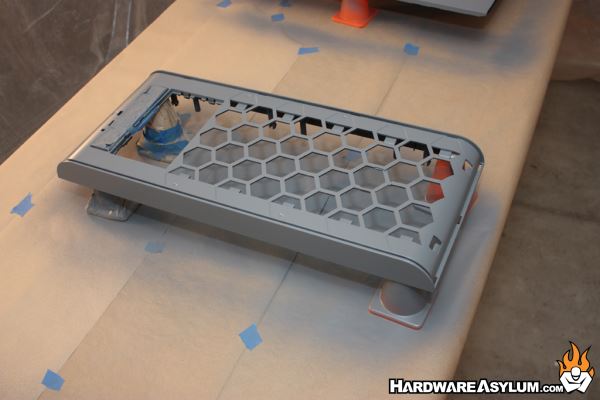 As you can see the sealer is the traditional grey color and goes on rather thick. It will eventually smooth over any fine texture left on the original surface. In this case it smoothed over the typical rough paint finish found on most cases.