Custom Painting a Thermaltake Core V51 Casemodding Project
Author:

Dennis Garcia
Published:
Monday, February 15, 2016

The Final Coat - Clear
At this point you can begin to see the color change occurring as light bounces off of the pearl. Up until now none of the coats have introduced any catalyst (hardener) and simply cured in the air and offer no resistance to the elements and need to be affixed with a clear coat.
Of the coats the clear is the most nerve racking too because the paint has no color so you must rely on how the paint reflects to know if you have enough down. Experienced painters can often paint by feel but I found myself struggling to get enough clear down per pass which left many sections rough. You would think after painting 6 cases with my small spray gun that I would get the hang of it but, that isn't the case. I still blame muscle memory given that I learned to paint with larger guns that flowed more paint per trigger pull. Not a huge deal, just difficult to find the right speed.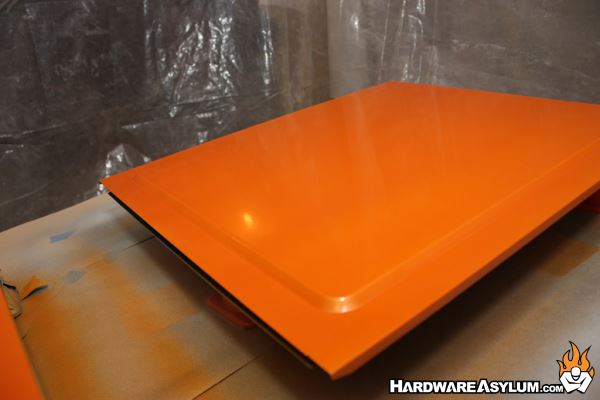 Many painters will claim that they apply several layers of clear for the deepest shine. What they don't tell you is that to get the shine out you must cut and buff the paint adding expensive labor to the process. Applying 2 or less coats achieves the same result but without the need to buff.
Considering that this is a computer case and not a show car that is what I did.
It was getting rather cold that night so I left the parts in the booth to cure while a space heater was used to maintain temperature. Honestly, it isn't the safest method but an oil heater is mostly sealed and I had already vented the booth so the risk was pretty low.
After a couple hours the parts were moved out of the booth to rest.
Start to finish the painting part of this project took two days. I started setting up the paint booth around 9am and had parts ready to paint by noon. I was lucky and able to apply a coat every hour minus a two hour break to remove some dirt that had gotten mixed in with the sealer. I did let the ground coats cure for about 2 hours before applying the clear.