Custom Painting a Thermaltake Core V51 Casemodding Project
Author:

Dennis Garcia
Published:
Monday, February 15, 2016

Reassembling the Core V51
The fastest way to selective paint anything is to remove the parts and paint them individually. For this project it meant drilling out the rivets and now it was time to put everything back together.
1/8th aluminum rivets is all you need and I usually buy them with a 1/8th grip. That is pretty close to what the factory uses but not exactly so be sure to check the area behind the rivet to ensure you have enough room.
When reassembling this case I ran into a few issues where the rivet didn't snap down like it should have leaving the connection rather weak. Sadly this couldn't be avoided due to how the case was built but, due to the multitude of rivets used it is still quite strong.
Once the base chassis was reassembled the metal mesh was reinstalled to create some rather amazing effects. Looking directly at the panel you can clearly see the orange but when obscured you see the black instead.
The same is true when looking at the top panel through the fan filter.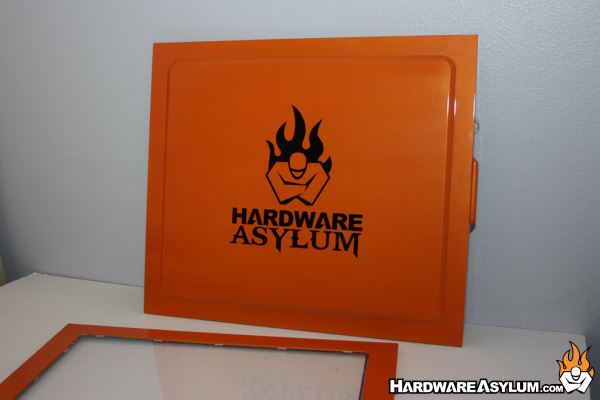 The final step is the signature Hardware Asylum vinyl graphics.