Thermaltake View X31 Modding Project
Author:

Dennis Garcia
Published:
Thursday, October 26, 2017

View X31 System Install
As they say, the modding never stops and I would agree. Sadly, the modern definition of a casemod isn't so much about modding the case anymore but, rather putting together a custom build and "maybe" changing a fan. I'm not sure when the definition got skewed but the way I see it a custom build is the act of assembling a system using off the shelf components. A casemod requires doing something to the case that wasn't intended from the factory. For this project that entails a coat of automotive pearl white paint job which might get some vinyl treatments in the future.
The rest of the build is pretty straight forward. We ported over the MSI Gaming 7, MSI GTX 1070 Gaming X and full TT Premium water loop. The build did get a new power supply which is the Thermaltake SmartPro RGB 850w and we decided on the vertical GPU mounting bracket. I had to buy the PCI Express ribbon cable separately.
Mocking the system up required installing the hardware and then linking it all together with PETG tubing. It is a very time consuming process but with some work it all comes together without too much trouble.
Cooling is handled by a 5-pack of Thermaltake 140mm RGB Riing fans. These are all controlled by software using a central USB control box. They look great however do not fit well at the front of the View 31 as it was designed to handle 120mm fans with provisions for 140mm and larger.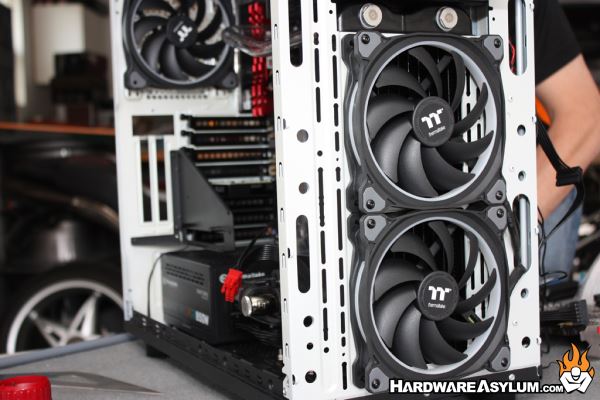 One of my future mods for this case is to open these fan holes up for better airflow. (yes I know, it should have been done "before" the case was painted but.. what can do you)
Wiring and leak testing occurred at the same time with the help of an external PSU. Honestly it always amazes me at how easy it is to hide all of the required wiring for a modern system build.