Thermaltake View X31 Modding Project
Author:

Dennis Garcia
Published:
Thursday, October 26, 2017

Conclusion
The final product really turned out quite nice. For this we have four RGB LED strips tied into a Sound BlasterX AE-5 AmpDAC. A single UV LED light strip behind the Thermaltake Pacific PR22-D5 and of course the Thermaltake 140mm RGB Riing fans. The nice thing about having three different light sources is that you can control them independently depending on your mood.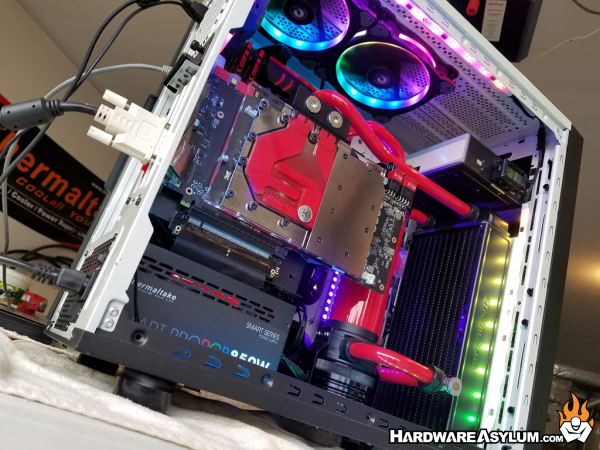 Overall I really liked how this build turned out. If I had to do it over I would have use some PWM fans on the radiator. The Riing control software is great but doesn't really give me confidence when it comes to controlling fan RPM. For lighting the Riing fans are great and they synchronize well when configured correctly.
For the curious below is the entire system
Thermaltake View 31 Tempered Glass edition with Core X31 front bezel
Thermaltake 140mm RGB Riing Fans
Thermaltake TT Premium cooling loop with hardline PETG tubing
- Pacific RL280 Radiator
- Pacific PR22-D5 with Silent Kit
- Pacific W2 Water Block
- Pacific Hardline Fittings
MSI Gaming 7 X99 Motherboard
Intel 5930K 6-Core Processor
16GB GSKill Ripjaws 3000Mhz Memory
MSI GTX 1070 Gaming X with clear nickel EK waterblock
Samsung Pro 950 NVMe SSD
2TB Seagate Hybrid HDD
Thermaltake Smart Pro RGB 850w PSU
Links to some of my other modding projects
Custom Painting a Thermaltake Core V51 Casemodding Project
Silverstone Raven 2 Casemod
Thermaltake Level 10 GT Casemod
Thermaltake View 31 Tempered Glass Edition Case