Cooler Master Hyper 622 Halo Dual Tower Cooler Review
Author:

Dennis Garcia
Published:
Friday, May 26, 2023

Introduction
The Hyper line of CPU coolers from Cooler Master is one of the most popular products they have to offer. Back in 2008 I was fortunate enough to review the Cooler Master Hyper 212. This was the generation of the Core 2 from Intel which was a processor that could overclock quite well if you could keep it cool. The Hyper 212 did exceptionally well and turned out to be extremely affordable.
Over the years there were several upgrades to the Hyper 212 focused on maximizing performance while retaining the same form factor and affordability, some focused on core contact designs while others added RGB fans. These experiments helped to develop the cooler and expanded the product line to include the Hyper 612 and a few MasterAir variants.
In this review we will be looking at the Hyper 622 Halo from Cooler Master. This cooler is a dual tower design featuring the new Halo2 ARGB fans that we recently reviewed.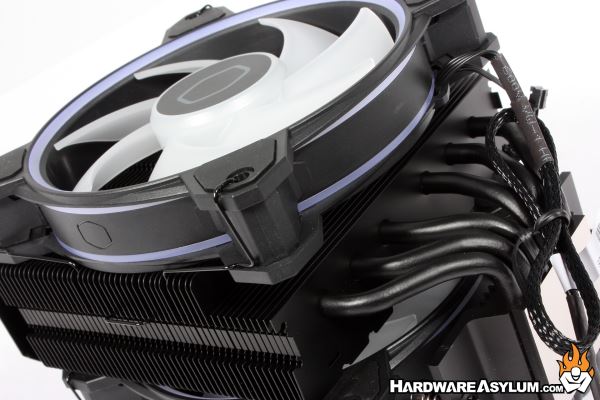 This cooler features a total of 6 heatpipes split across the two towers. Unlike more compact cooler designs these heatpipes are arraigned in a single row for maximum exposure to incoming air. The entire cooler has been painted black for that "stealth" appearance and to match many of the other aircoolers in the Cooler Master lineup.
As with most "large" air coolers you need to provide allowances for motherboard components. Normally this is handled by simply raising the cooler up however to remain compact and support the dual 120mm Halo2 ARGB fans you will find two notches in the radiator to provide clearance for typically sized RGB memory modules on the market.
Mounting the Hyper 622 is done using two centrally mounted captured nuts that will provide spring pressure across the cold plate and secure the cooler to a built up mounting platform.
Visually, I would like to point out that the Hyper 622 appears to be HEAVLY influenced by the Noctua NH-D15 line of U-shaped coolers. Noctua not only pioneered one of the best CPU mounting platforms on the market but is famous for their D15 dual tower coolers with 6 heatpipes and large cut-outs for memory module access.
Granted, the Noctua design is quite a bit larger and this isn't the first time Cooler Master has used a center mounted retention method but, the similarities are there and not the first time the popular Noctua design has been sampled and, will likely not be the last.