bequiet Pure Loop AIO Watercooler Review
Author:

Dennis Garcia
Published:
Tuesday, March 23, 2021

Introduction
The AIO or All in One cooler is a pretty common item in the modern PC and while manufacturers go on about how their cooler is different or better than the competition, they are all pretty much the same thing. You have a pump block that attaches to the CPU and a radiator that you place to expel excess heat. Overall, the design will dictate the performance potential making it easy to pick a winner.
In this review we will be looking at a new AIO cooler from bequiet called the Pure Loop. This cooler takes a different approach to the AIO that allows it to function more like a DIY loop with a separated pump, larger cold plate with a range of radiator options available.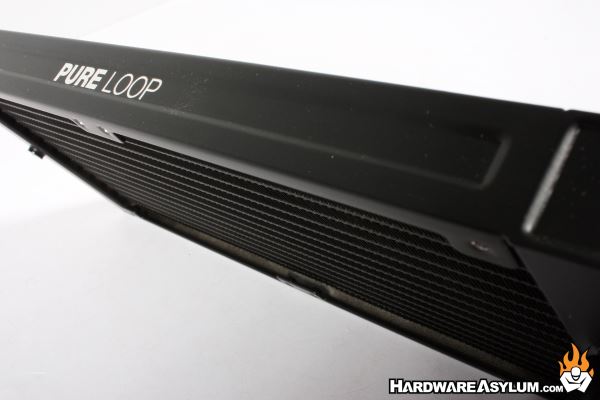 The cooler featured in this review is the 280mm version and is designed for any modern processor platform excluding the exotics like Threadripper and LGA 3647. You can get the cooler with a range of radiator options from 120mm up to 360mm with a nice option to support dual 140mm fans.
Features
Pure Loop 280mm is the new impressively high-performing and silent All-in-One water cooling unit of be quiet! for price-conscious users with overclocked systems.
Impressively high cooling performance
Doubly decoupled pump for quiet operation and minimal vibration
Pure Wings 2 140mm PWM fans combine quiet operation with high air pressure
White LED illumination, all-black design and aluminum-style for unmistakable and stylish look
Easy-to-access refill port and included coolant bottle guarantee a long lifespan
Flexible sleeved tubes and a convenient mounting ensure easy handling
Nickel-coated coldplate allows optimum use of liquid metal thermal compound
3-year manufacturer's warranty
What makes this cooler different and unique is the decoupled pump. On most AIO coolers the pump is either integrated into the CPU block or is part of the radiator. In both of these instances you are limited by the package and will ultimately dictate the type and size of pump that can be used. For low profile coolers they will use a magnetic resonator style pump over the larger axial motor which would be similar to a D5.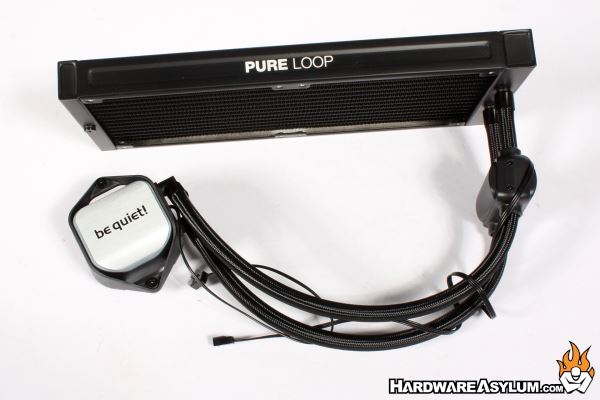 On the bequiet Pure Loop the pump has been moved away from the block and placed near the radiator. This allows the rubber hoses to not only act as a sound damper and gives them more freedom in pump choice.
The CPU block is nickel plated and features its own LED light. Sadly, this is not RGB but it will add some light to your otherwise dark build. In terms of overall dimension, the CPU block is larger than expected and has some weight to it indicating that there is likely more copper in the cold plate and more mass goes a long way to increase power handling.
To finish off the AIO the Pure Loop is matched with two Pure Wings 2 140mm PWM cooling fans. These fans feature a nine-blade design and are optimized for silent operation. They feature an 80k hour life cycle, 1000 RPM maximum speed and push 61CFM @ 18dBA.