bequiet Pure Loop AIO Watercooler Review
Author:

Dennis Garcia
Published:
Tuesday, March 23, 2021

Conclusion
There are several things to consider when looking at a self-contained watercooling solution. Performance and price are always seem like the most important factors but when you consider that most watercooling units all follow a similar formula it is nice to see something different. In this review we looked at the Pure Loop 280mm from bequiet. This is a new AIO solution for them that changes the typical formula with a decoupled pump design.
You'll find the pump positioned inline near the radiator that not only allows for the cold plate (the CPU block to be larger but also allowed bequiet to use a much larger pump making this AIO more of a mini-DIY loop over a self-contained AIO.
To further this concept the Pure Loop also comes with a fill port and a bottle of coolant allowing the user to top off their cooler after several years of use. The concept of an AIO is to offer a maintenance liquid cooling solution and addition of a fill port breaks this concept but, in a good way.
Testing the cooler went extremely well. Installation was straight forward and the universal mounting hardware helped to simplify the process. Performance was extremely good with C/W results being stable across both the default and overclocked temperature tests. This would indicate that the cooler can handle more load but is realistically done to offer a better platform for silent operation.
As always, the Pure Wings 2 fans were dead quiet with only the noise of the pump being audible. It would seem that despite the pump being rubber mounted and suspected by rubber hoses it still has a slight hum and by slight, I mean. You can hear it if you are trying to hear it otherwise it dies away as white noise in your system.
Good Things
Excellent Radiator Design
Decoupled Pump
Large Pump
Large CPU Block
Excellent Performance
Pure Wings 2 Fans Included
Extra Coolant Included
Bad Things
Pump is louder than expected
Hardware Asylum Rating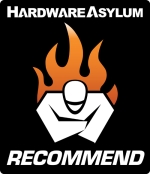 bequiet Pure Loop AIO Watercooler Review
Recommend
https://www.hardwareasylum.com