Aorus Gaming Peripherals Roundup
Aorus Gaming Peripherals Roundup
Author:

Darren McCain
Published:
Friday, November 17, 2017

Aorus K7 Mechanical Gaming Keyboard Review
AORUS is Gigabyte's premium gaming brand which can apply to a wide variety of products from peripherals to video cards, motherboards and even gaming laptops. These represent some of their top level product offerings. Today we will be looking at their latest line of Aorus gaming peripherals; the Aorus K7 Gaming Keyboard, Aorus M3 Gaming Mouse, Aorus AMP300 Hybrid Gaming Mouse Pad and the Aorus H5 Gaming Headset.
With the Aorus line of gaming peripherals, Gigabyte is following the latest trend of releasing products in batches designed to work together through a common visual theme and unified driver architecture. The advantages of owning a common set of products, like these, are great as you'll get fewer driver issues, unified product synergy, visually matched theme and sometimes even cross functionality.
How do these products stack up? Let's take a look at them individually and also their common driver suite and find out!
Gigabyte Aorus K7 Mechanical Gaming Keyboard
The Aorus K7 Gaming Keyboard is the latest keyboard to wear the K7 moniker so frequently awarded to the top Gigabyte keyboard designs. The redesign brings a more traditional mechanical keyboard layout and a beautiful RGB fusion back lighting system.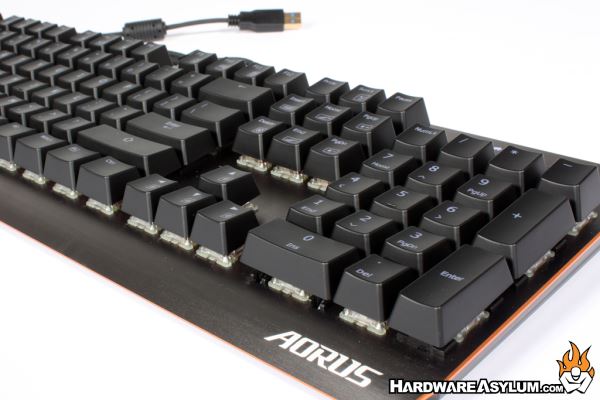 The Aorus K7 looks a lot like the well regarded XK700 design only subtly streamlined with an updated brushed grey base. The size is slightly smaller though still a full 104 key design. Currently the Aorus K7 only ships with the popular Cherry MX Red switches.
For FPS gamers, Gigabyte has included a set of 8 bright orange WASD keycaps with a nice wire key-cap removal tool. The keycaps do make an impression with their color but are otherwise unmarked. This is an interesting decision for any keyboard equipped with RGB back lighting given that you could also simply change back light color.
K7 Features
RGB fusion - Per key 16.8M customizable color
Superior Cherry MX mechanical gaming key-switch
Adjustable non-slip rubber feet stands
On-the-fly multimedia and backlight control
Full-range anti-ghosting capability
K7 Specifications
Interface: USB 2.0
Activation: Cherry MX Mechanical Gaming Switch
Switch Type: Red
Switch Life: 50 million times
Key Profile: Standard
Travel Distance: 4mm to the bottom
Activation Distance: 2mm to actuation point
Peak Force: Red : 45g +/- 15g
Dimension: TBD
Weight: TBD
Cable Length: 2m
Software: AORUS Engine
OS Support: Windows 7 / Windows 8/ Windows 10
Simultaneous Key input: USB N-Key Rollover (NKRO)
Report Rate: max 1000Hz
Backlighting: RGB fusion - Per key 16.8M customizable color
Multimedia Hotkey: 22 function keys, combination work with "Fn" key
Choosing your mechanical keyboard often boils down to identifying what type of Cherry MX switch you like the most. Blue tends to favor typists with a more tactile or "clicky" action. Blue can also make it harder to double tap but provides the most feedback in terms of touch. Reds require less force and tend to favor a softer touch which can also lead to accidental key presses but can be more responsive. Black switches are similar to reds but require more force to actuate the key. Black switches require 60 cN (centi-Newtons) of force to actuate, while the Red switches only requires 45cN. Browns tend to be a little bit of both. While they are less tactile, and less "clicky", they do have a feedback to them while still requiring less force than the reds. Green is a very rare switch type often referred to as a stiffer blue making its inclusion all the more notable. Green is both a tactile and a clicky switch often reserved for the space bar. You can both feel the tactile bump and hear the "click" that occurs when the activation point is hit.
AORUS is a premium gaming brand focused on customization and personalization for all users but most importantly gamers. Described as the pinnacle of hardware excellence, the Aorus brand has previously been offered on Gigabytes high end motherboards and graphics cards.
Designed by gamers for gamers Aorus products are not designed in a vacuum but with active participation from pro gamers and the Gigabyte community.