Aorus Gaming Peripherals Roundup
Aorus Gaming Peripherals Roundup
Author:

Darren McCain
Published:
Friday, November 17, 2017

Aorus H5 Gaming Headset Review
Regular readers of my reviews or listeners of the Hardware Asylum Podcast will know I have become a bit of a headset hoarder recently! I prefer to game with a good set of headphones for full immersion and they don't disturb the family. This makes the Aorus H5 Gaming headset an unexpected treat as part of the new Aorus line.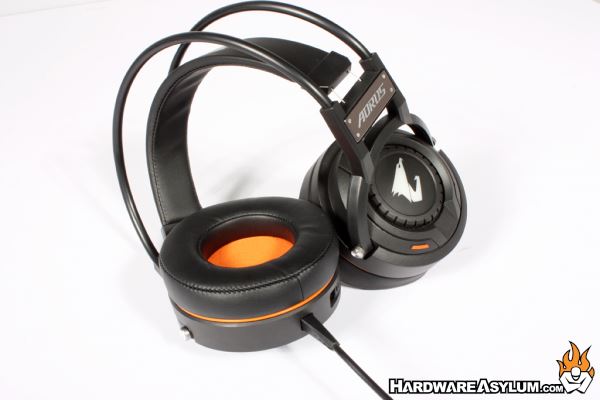 The core of the Aorus H5 is a set of 50mm Beryllium metal drivers surrounded by larger cushions for a fully closed back over the ear fit. A light weight frame paired with a suspension headband reduces the weight to a nice ~285g. The ear pad material is not expressly noted in the marketing but seem to be a pleather fabric.
Features
50mm Beryllium metal drivers
RGB Fusion-16.7M customizable lighting
Detachable and Bendable Microphone
Wearing comfort for prolonged gaming
In-line sound controls
Specifications
Type:Headphone : STEREO / Microphone : Unidirectional
Driver Diameter: Headphone : 50mm / Microphone : 4*2mm
Impedance: Headphone : 32? / Microphone : 2.2K?
Frequency Response: Headphone : 20Hz~20KHz /Microphone : 100Hz~10KHz
Sensitivity: Headphone : 100 ± 3dB at 1KHz / Microphone : -44 ± 3dB at 1KHz
Cable Length: 3m
Weight: 285g±10g (exclude cable)
Connector Type: USB2.0 / 3.5mm / 3 ring Mic / 3.5mm / 3 ring Audio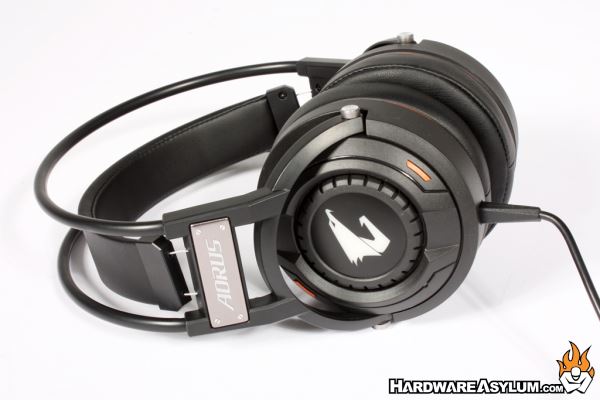 Despite using the RGB Fusion to light up the side Aorus Logos the headphones don't look gaudy and bring to mind headphones from top designers like Fischer and AKG. Branding is tasteful and the fit is quite comfortable for long gaming sessions.
A flexible rubber mic is included and can be removed for those music sessions or on the go. I did find getting the mic in completely required a bit of force as I initially thought it was not working right.
Audio performance was excellent thanks to the balanced 50mm drivers. I tend to spend a lot of time testing headphones to try and identify any nuances and continued to be surprised across a wide variety of sources. When paired with some of my better Amp/DAC combos the H5s really start to show their potential. Range was quite good and sound stage was nicely represented.
An inline volume control with a mic mute is nicely mounted on the 3m cable and controls are simple and easy to navigate without having to look down. RGB power Is provided by USB making three connections required for full functionality. This means you probably won't be trying to take your H5's mobile and that's a shame as they are a confident music choice.
Mini Conclusion
I found the h5 sound quality a constant surprise and had to recheck the price point as they sound as good as some of my entry level audiophile sets. Fit was comfortable if a bit hot over time. Mic quality was finicky and a definite weak spot for constant communication over Team Speak, Skype or Discord.