Aorus Gaming Peripherals Roundup
Aorus Gaming Peripherals Roundup
Author:

Darren McCain
Published:
Friday, November 17, 2017

Aorus AMP300 Hybrid Gaming Mouse Pad Review
Ah the humble mouse pad. Unsung hero of your gaming rig!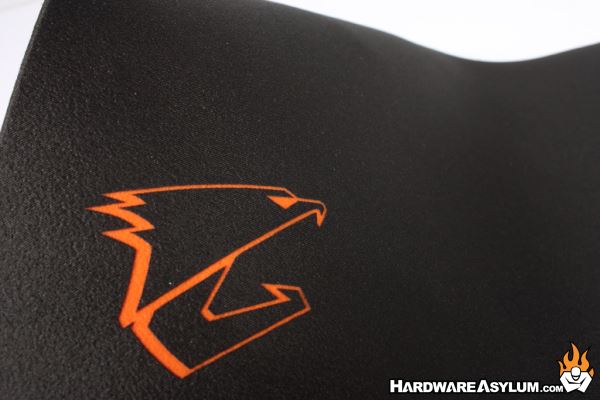 The Aorus AMP300 Hybrid Gaming Mouse Pad is one of the smaller offerings from Aorus at 324 x 273 x 1.8mm thick. Made from Silicon it is spill resistant and washable if needed. The bright orange we have seen hints of across the Aorus line is the primary material color and is used to show the Aorus logo through the black gaming surface.
Features
Optimized surface for precise mouse tracking
Hybrid Silicon Base Design
Heat molding edge for ultra comfort
Spill-resistant and washable
Size: 324x273x1.8mm
Specifications
Surface: Fabric
Materials: Silicon
Thickness: 1.8mm
Spill-resistant: Yes
Dimension: 324*273*1.8mm
Color: Surface: Black / Base: Orange
It is definitely not easy to review a mouse pad as we all have our preferences. I found the size about right for my gaming needs and small enough to fit on my keyboard tray. I tend to prefer solid mousing surfaces but once the shape relaxed I hardly noticed it.
Mini Conclusion
The primary reason to include the Aorus AMP300 in your setup would be to accent the rest of your matching Aorus system. It is hard to believe there are so many enthusiasts still using OEM pads when a good entry level pad like the AMP300 can be found so cheap.