Aorus Gaming Peripherals Roundup
Aorus Gaming Peripherals Roundup
Author:

Darren McCain
Published:
Friday, November 17, 2017

Aorus Graphics Engine Software
Matching looks may be a driving factor when purchasing a series of matching products but a unified driver setup is a huge bonus. You get peace of mind knowing your devices are tested together and will have a smaller software footprint as well.
As will all review products, I ignore what comes in the box and go directly for the latest software/firmware directly from the manufacturer's site. In this case I will be using the latest version of the Aorus Graphics Engine, Version 1.22 (11/08/2017).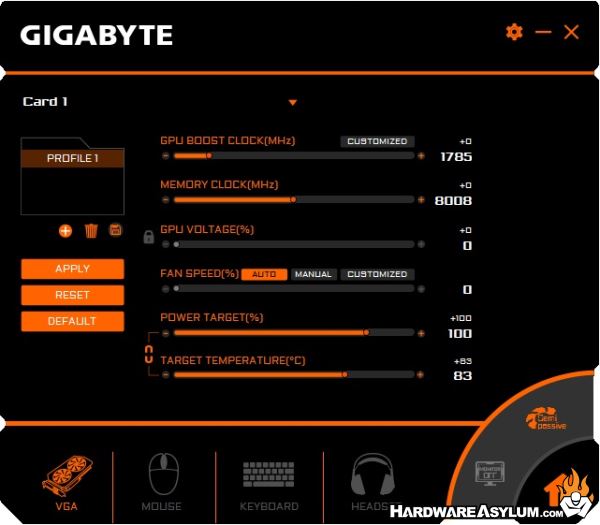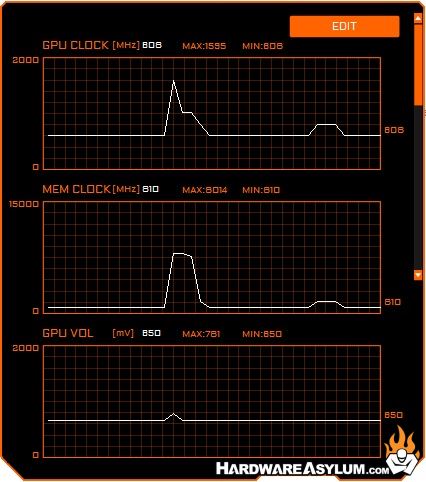 Gigabyte has really done a nice job in implementing a simple unified driver system. I was immediately surprised to see the Founders Edition GTX 1070 used in this build appear on the first tab. It's a nice bonus for providing access to over clocking and fan controls. With the ability to save profiles. With no Aorus product to test, I ignored these for now.
Navigation is as simple as selecting the icon for your installed device across the bottom. Any sub menus are shown on the bottom right surrounding the home button. Sub menus, like the GPU clock screen above, open up in smaller screens to the right of the main device menus.
M3 control defaults to the RGB Fusion controls with 5 effects to choose from: Constant, Breathing, Flashing, Dual Flashing and Circling. The toggle at the bottom right will sync your light effects across all supported Aorus products. With the lights down the effect is pretty stunning. For once I prefer circling to my typical breathing motif.
No mouse driver would be complete without key mapping. And the M3 lets you remap down to the DPI switches. It is done through a menu driven system that groups functionality into categories. This is somewhat limiting but makes most common functionality, including macros, easy to setup.
Macro support is available for both the K7 keyboard and the M3 mouse and can be stored in the device on board memory. I find as I get older I rarely use macros beyond a simple grenade or reload script but I do tend towards FPS games these days.
Macros can be recorded directly from your devices and then edited or fixed in the software. They can also be imported/exported for sharing and backup.
K7 support is similar with the RGB LED control up front. 16.8 million colors can be assigned using the color slider, the default color squares or by keying in the specific RGB code. Colors can even be assigned at the individual key level or by preset groups like WASD. Of course syncing can be triggered from here as well.
Key assignments work like the M3 with functionality divided into groups like the Media Player control group shown here. Some experimentation will help but the ability to create a string of text keystrokes seems most useful.
Lighting control options are also thematically the same. Syncing does limit the RGB Fusion options to only those common across the present devices. I did find the keyboard likes to default to the red led when changes are made forcing me to reset the lighting customizations when some changes are saved. Saves occasionally feel slower than expected making me wonder if there was an issue communication at times. This should be worked out in the drivers shortly I would imagine since only one driver version was shown.