Sound BlasterX Weapons Crate Review
Sound BlasterX Weapons Crate Review
Author:

Darren McCain
Published:
Tuesday, April 11, 2017

Introduction
There's just something about a limited edition bundle that always peaks my interest and Creative Labs has created an awesome bundle to celebrate the release of hot new Sound BlasterX Siege M04 RGB gaming mouse and Vanguard K08 RGB mechanical gaming keyboard. This bundle also includes the new Sound BlasterX AlphaPad mouse pad as an added bonus.
In addition to the attractive bundle of enthusiast level products at a great price, Creative's marketing team packs them into a numbered hard shell Weapons Crate that definitely looks like it means business. Only 200 of these limited numbered packages are available so read on and don't hesitate if this is the package for you!
Check out the Creative BlasterX Weapons Crate bundled offer on the Creative website.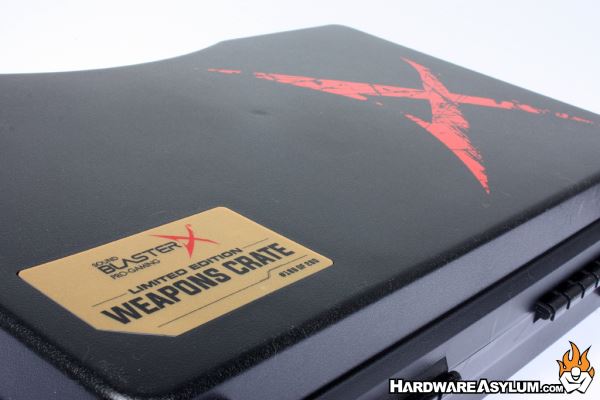 The Weapons Crate is a sturdy plastic case packed with form fitting foam that snugly holds all three of the peripherals and the wrist rest in individual pockets. An attractive gold Limited Edition sticker proudly displays your number; #188 here.
The crate measures in at about 21 x 12 x 5.5 inches (53.34 x 30.48 x 13.97 cm) and features a simple Blaster X logo. The handle is sturdy and large enough for just about any grip.
As you would expect the case is solidly constructed with 6.5 inch hinges and a set of two heavy plastic slide locks that can take a padlock each if desired. Each of the peripherals is padded to a minimum of about an inch and a half from the sides for added security.
To say the package is sturdy could be viewed as an understatement.
Sound BlasterX Weapons Crate Contents
Availability
With only 200 of these special bundles you might want to grab your own Sound BlasterX Weapons Crate quickly. The good news is that Creative has already released each of the three products individually and while yo u may not get the snazzy crate and the big smile that comes with a limited edition package you can get all the performance of the Sound BlasterX Siege M04 RGB gaming mouse, Vanguard K08 RGB mechanical gaming keyboard or AlphaPad alone or in any combination you wish. Links to Amazon
Creative is the worldwide leader in digital entertainment products. Founded in Singapore in 1981, Creative started with the vision that multimedia would revolutionize the way people interact with their PCs.
Famous for its Sound Blaster sound cards and for launching the multimedia revolution, Creative is now driving digital entertainment with cutting-edge audio solutions, premium wireless speakers, high performance earphone products and portable media devices. The company's innovative hardware, proprietary technology, applications and services enable consumers to experience high-quality digital entertainment - anytime, anywhere.
Since launching the phenomenally successful Sound Blaster sound cards and setting the de-facto standard for PC audio in 1989, Creative has been able to leverage on its leading-edge audio technology, a huge user base of 400 million, and strong brand name to expand into the exciting lifestyle Personal Digital Entertainment (PDE) market.