Sound BlasterX Weapons Crate Review
Sound BlasterX Weapons Crate Review
Author:

Darren McCain
Published:
Tuesday, April 11, 2017

Sound BlasterX Siege M04 Precision Gaming Mouse
A bundle is only as good as the products included and the Sound BlasterX Weapons Crate is no exception. Creative Labs has quite the reputation to uphold after all. We will take a closer look at each of the included products and the software they share.
First up is the Sound BlasterX Siege M04 Precision Gaming Mouse.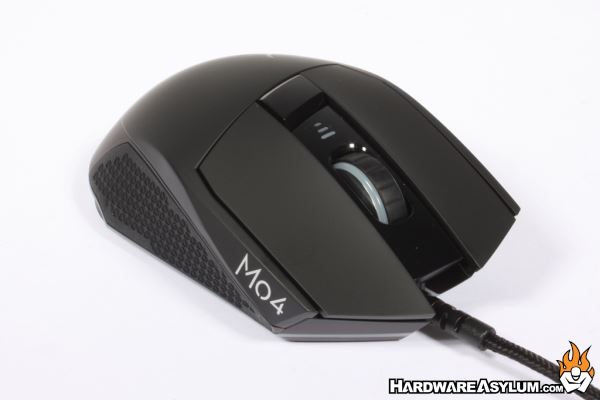 The Siege M04 Precision Gaming Mouse is designed to be a full featured right handed gaming mouse and a flagship model for the new gaming peripherals line. The engineers at Creative promise "to give you the best P.R.E (Perceive, React and Execute) experience you've ever known." They may be a bit late to the high end gaming stage but the M04 is packed with high end features.
Specifications
Length: 135.6mm
Width: 67.65mm
Height: 43mm
Weight without Cable: 110g
With Cable: 143g
Product Color: Black
Lifespan: 50 million clicks
Optical Sensor Specifications
PixArt PMW 3360
12,000 DPI
12,000 FPS
50G Acceleration
250 IPS Tracking Speed
2mm LOD
The M04 is a great looking asymmetrical design that is slightly smaller than my trusty ROCCAT XTD and feels quite comfortable in my medium-large palm grip. The overall size is tapered more in the back and I did find some wrist rub when I relaxed my grip.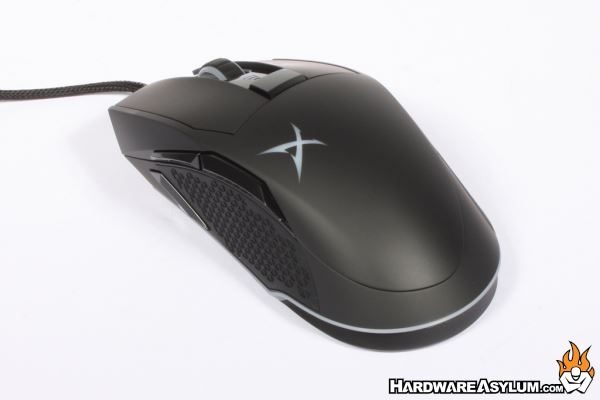 Both sides of the M04 have a nice rubber grip surface that feels great and allows for a firm claw grip if desired. The main surface is a fingerprint resistant black plastic with a brightly lit red BlasterX emblem. The 2 meter cable is nicely braded and looks solid.
A total of seven programmable buttons are available with onboard memory to hold your settings independent of your PC. Three of the buttons are arranged around the thumb grip with enough of a ridge to make them slide actuated. The remaining buttons are arranged in a traditional sense with a 3 level DPS button behind the wheel. The lower button did take some getting used to as it would touch my thumb tip during more frantic gaming if my grip shifted forward.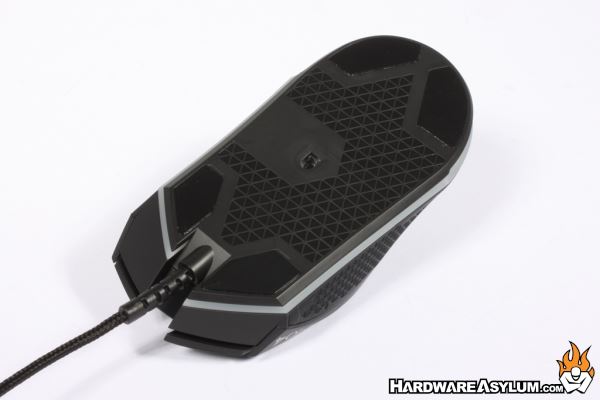 Sensor support is provided by a PixArt PMW3360 IR LED gaming grade sensor and is widely considered one of the best sensors on the market today. This sensor is used in most flagship mice and features a 32-bit high speed microcontroller capable of a polling rate of 1000 Hz, 12,000 native DPI and a low 2mm lift-off distance with zero built-in acceleration and cursor prediction. This sensor is quite precise and has no artificial smoothing.
The M04 floats on a set of 4 oversize feet and has a weight of 110g not counting the cable putting it in the sweet spot for a mouse with no weigh adjustment options. The weight feels good and balanced nicely accenting the natural shape of the curved upper surface.
Of course the M04 features Creative's Aurora Reactive lighting system. This fully customizable LED based system runs the entire distance around the bottom of the mouse providing a beautiful ground effects look that is clearly visible when in use but never distracting. The software allows you to completely customize the colors and link up with other Creative BlasterX products.
It is always hard to really show the lighting effects through pictures and video but believe me the Aurora Reactive system is the most attractive use of RGB I have seen to date. It's absolutely stunning even with the lights up!