Sound BlasterX Weapons Crate Review
Sound BlasterX Weapons Crate Review
Author:

Darren McCain
Published:
Tuesday, April 11, 2017

Testing and Conclusion
I tested the three pieces of the Weapons Crate for a couple of weeks that included a two day LAN party. In fact I am working off of them now. I used the LAN Party to get some additional candid feedback after the Aurora Reactive light attracted interest again and again.
Universally everyone that sat down to the set found the Vanguard K08 comfortable and responsive. Some of the more technical users commented on how much smoother and quieter they are compared to "insert you favorite Mechanical keyboard here". I absolutely agree. Other than the large footprint, it is hard to find fault with this first effort and I never felt any fatigue even after 12 hours of 7 Days to Die and a TF2 tournament.
As expected the Siege M04 is a bit more polarizing. Your Mouse choice is much more personal and tactile. Most liked the look and shape but more time was needed to be sure of the feel. I can assure you I found that the shape grew on me pretty quickly though I still prefer the larger ROCAT XTD. The weight may be in the sweet spot for the average gamer but I would have liked to try the M04 with a slightly heavier foot print or even offered with adjustable weights to match.
Overall I can say I have spent roughly a hundred hours on the Weapons Crate and it is still on my primary gaming rig today. No signs of any wear and tear despite around four different round trips into the crate for travel.
Did I mention how much I like the actual crate? Oh yeah, it is sweet. Nothing like packing things up in a fitted case and off you go. And the looks of the poor noobs when you unpack your gear might add a few status points too…
Conclusion
I love that Creative Labs has marked the release of their first set of gaming peripherals with the Weapons Crate. It is definitely cool and shows their confidence in all three products. Creative has positioned themselves as the pinnacle of gaming sound devices and the Weapons Crate shows they want to make a big splash in the gaming market.
I love the Vanguard K08 even with its larger footprint and wonky wrist rest. It just looks and feels great. The Aurora Reactive lighting is second to none and the overall look is both modern and sleek. I just can't make myself pack it away. It's safe to say Creative's keyboard line will have a nice long future and would even pay more for an all metal version if there is a next crate!
The Siege M04 is a beautiful gaming mouse and maybe the first I have seen that gets the lighting right. It looks and performs great! Add the state of the art PMW3360 IR LED Gaming Grade Sensor and you are immediately competitive. I would love to see adjustable weight system but it is also a pretty solid mouse right out of the box too. Those with larger hands should try before you buy but the rest of us are going to be pretty satisfied.
Thinking about upgrading your keyboard and mouse or simply looking for a great looking upgrade to just one peripheral? You can't go wrong with a Weapons Crate. You get a nice set of peripherals at a sweet limited package. If you are unfortunate and miss out on a limited edition Creative BlasterX Weapons Crate you can still buy all of the components indvidually using the links below.
Good Things
Terrific Limited Edition Package
Class Leading Lighting on Both Products
Intuitive Common Software Suite
OMRON Switches are Durable and Feel Great
Carry Case
Bundle Options/Price While They Last
Bad Things
K08 wrist rest feels like an afterthought
No USB 3.0 support on pass-through
No hardware customization options
Software suite does not work with older products
Hardware Asylum Rating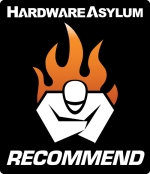 Sound BlasterX Weapons Crate Review
Recommend
https://www.hardwareasylum.com