Sound BlasterX Weapons Crate Review
Sound BlasterX Weapons Crate Review
Author:

Darren McCain
Published:
Tuesday, April 11, 2017

Sound BlasterX Vanguard K08 RGB Mechanical Gaming
Creative has chosen to go with a full sized keyboard design with the Sound BlasterX Vanguard K08 RGB Mechanical Gaming Keyboard. Not only is the Vanguard 08 the first Creative keyboard but this flagship features a custom OMRON switch Creative co-designed.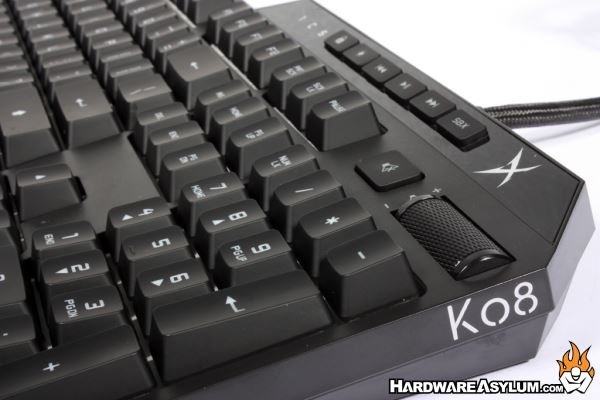 In many ways the design of the Vanguard K08 is a traditional keyboard layout down to the single row of programmable keys on the left hand side. The end result is a bit larger than the recent trend in minimalistic designs at 215mm x 465mm x 37.6mm (~8.5 X 18.3 X 1.5 inches) with the optional wrist rest attached.
For a keyboard marketed at gamers it's a bit refreshing to see the accents down to a small light up BlasterX logo and the K08 on the side. Without the lights on the K08 can pass for any high end mechanical office keyboard.
Business by day..party at night!
Specifications
Product Color: Black
Dimension (HxWxD): 215mm x 465mm x 37.6mm
Dimension Without Wrist Rest (HxWxD): 149mm x 465mm x 37.6mm
Lifespan: 70 million actuations
Actuation force: 45g
Actuation distance: 1.5mm
Total travel distance: 3.5mm
A thick braided cable provides power to the K08 branching into two USB plugs. One for the Keyboard and one for USB 2.0 pass through. The cable notable for both its ~2meter (6 foot) length and its thickness. I always prefer a removable cable but this one appears built to last.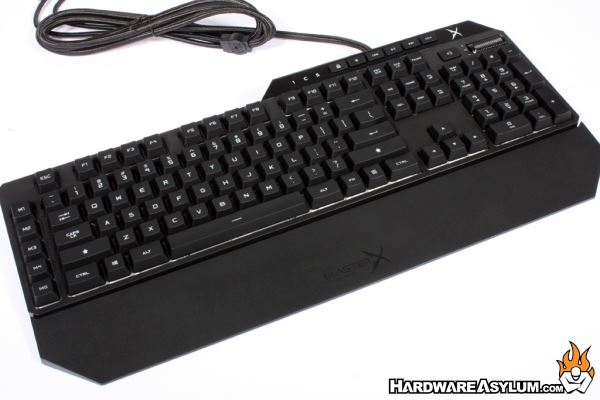 The plastic wrist rest may be the only part of the K08 package that doesn't feel over engineered. It's a nice looking tapered plastic with a faint Sound Blaster X Pro-Gaming logo. However, it does not have any friction attachment relying on only in two slots and gravity to hold it in place while the keyboard is seated. This aside, it is comfortable and doesn't move about under normal usage.
For switches Creative has teamed up with OMRON to provide a custom switch they call PRES. PRES or Perceive-React-Execute Switches use a cross-point design to track your press with dual connectors to guarantee your key strokes register. These PRES actuators are mounted in low profile key swift key caps and register after just 1.5mm of movement. These OMRON keys are rated at 70 million actions all but guaranteeing a good long life.
Creative has moved the multimedia keys to a dedicated area that also includes a Windows key lock out, a four position brightness control and a SBX button. The SBX button provides direct access to the software and a large volume roller provides a tactile volume control.
I have a lot of Sound Blaster products installed and did not have success with the SBX button using the unified drivers. With luck Creative will have that worked out soon as the key is not programmable using the software package. Though, to be honest I didn't miss it or, felt it was needed.
The USB port is hidden away at the back of the keyboard and I almost missed it! The port works well as a port for the M04 Mouse but I was also able to use it for typical USB functionality including a USB storage device. USB 3.0 would have been nice and seems like an easy step up for a true pass through. Maybe next generation?
I do find an extra USB port to be one of the most useful features a keyboard can have.
The bottom surface of the K08 has an interesting texture that matches the grip surface of the M04 Mouse. A total of 8 rubber feat provide a secure grip to your gaming surface. With the optional feet deployed you trade 5 of those feet for ½ inch tilt. The risers do not have rubber grips but I still found the K08 pretty secure.
Like the M04, the K08 is lit by Creative's Aurora Reactive lighting. The low profile key caps and the spacing between the keys provide one of the best LED lighting effects I have ever seen. Color transitions are seamless and the lighting is clear without being bright enough to distract, even at max brightness. Linking the Aurora lighting between the Vanguard K08 keyboard and the M04 gaming mouse lets the color events flow across both devices which is a key feature when getting peripherals from the same manufacturer.
If you are lucky enough to have more Creative products with the AURORA Reactive lighting you can extend the light effects to them as well. With my glass desk and the Creative Sound BlasterX Katana I have a pretty amazing light show when the lights are down.