EVGA X99 FTW K Motherboard Review
EVGA X99 FTW K Motherboard Review
Author:

Dennis Garcia
Published:
Tuesday, May 17, 2016

Onboard and Included Features
The I/O panel is rather self explanatory. On the panel you will find a total of ten USB ports. four USB 2.0 in black, four USB 3.0 in blue and two USB 3.1 in red. Type A and Type C. You will get two Gigabit network connections, one from a Killer Networks E2400 controller while the other is an Intel i218v PHY. CMOS reset and 8-channel audio complete the load out.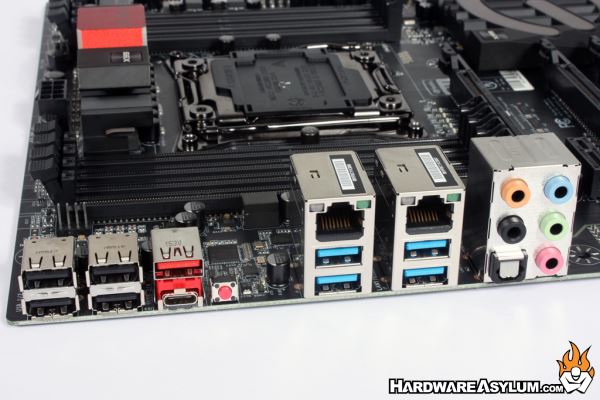 Of course having said that I will say there is one downside to using a USB keyboard. When you are overclocking there are times when the USB system will not initialize and sends your computer booting with no way to control it. Granted this only occurs at high BLCK and is actually pretty rare these days.
Onboard Audio
The audio solution found on the X99 FTW K is using the Realtek ALC1150 audio controller supporting up to 8 channels (7.1) with a digital connection over optical. Like some of the high-end gaming motherboards you'll find some specialized audio capacitors near the controller.
To further illustrate that the layers are completely separate on the reverse side of the motherboard you'll find a series of LEDs that light up and shine thru the PCB layers when the system is powered on.
Included Goodies
We have come to expect more goodies from our high-end motherboards to help justify the additional cost. EVGA includes a good amount of parts with the X99 FTW K to get you up and running. These are shown below. I especially like the round SATA cables, not so much for routing but they look really good.
In terms of documentation you will get a rather thin users guide which will help you locate all of the key components on the motherboard and even help troubleshoot POST codes in the event you have problems booting.
An EVGA branded I/O shield is also included along with a single SLI bridges for 2-way configurations. It would seem if you are planning to run 3-way or 4-way configurations you'll need to buy the EVGA branded bridges from their website. A cool new item is an anodized aluminum I/O cover which is an optional decorative item used to cover the I/O connections and clean up your system builds. It attaches to the motherboard using the existing motherboard screws and can be installed at any time.