EVGA Z490 Dark Motherboard Review
EVGA Z490 Dark Motherboard Review
Author:

Dennis Garcia
Published:
Monday, November 16, 2020

Board Layout and Features
The EVGA Z390 Dark is an extended ATX motherboard featuring a matte black PCB and gold accents scattered around the PCB and along the edges. There are two things you will notice right away. The first is a full coverage shroud that starts with the I/O connections and extends over the Z490 chipset. The second is the absence of expansion slots. I kid you not this board only comes with four PCI Express slots and yet the board is still covered with parts and components.
Looking at the back of the motherboard we can get an indication as to how the motherboard is constructed, most notability, how the PCI Express slots are wired. From this we can determine which slots are primary and secondary in terms of bandwidth and better understand optimal performance. There are a few surface mounted components near the VRM and chipset and a couple "rouge" capacitors that make AIO and waterblock installation a challenge.
The EVGA Z490 Dark features a very unique board layout that many will say is fresh and new while I'm sitting here saying "I have seen this before". If you read my review of the EVGA Z390 Dark you will know that I referenced two Athlon 64 based motherboards from the early 2000's. Well it would seem that EVGA liked the design change so much that they decided to duplicate it completely for the EVGA Z490 Dark.
Don't believe me? Check out the side by side,
EVGA claims the Z490 Dark to have an 18 phase VRM. Counting the chokes around the CPU socket you'll find 15 with several more scattered around the board.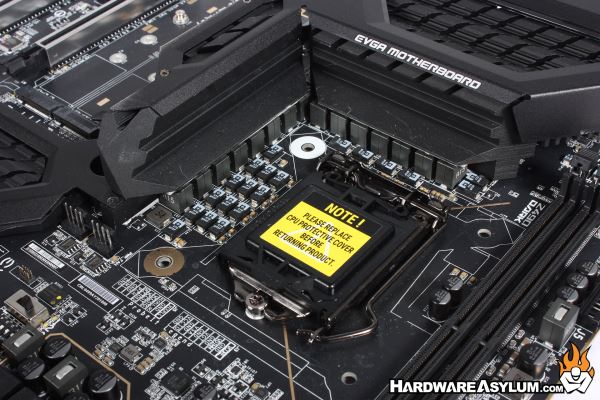 Rotating the CPU socket affords a number of benefits in a modern enthusiast build. Incoming air can pass unobstructed over the CPU and VRM heatsinks. It also places all of the CPU and motherboard power connectors to the same location. Per the EVGA standard these are rotated 90 degrees thus helping with cable management and airflow.
Given the overclocking nature of the Z490 Dark you only get a single bank of dual channel memory and supports standard speed DDR4 modules with overclocking support beyond 4800Mhz. A maximum of 64GB is addressable with the proper module density.