Gigabyte X99 SOC Force Overclocking Motherboard Review
Gigabyte X99 SOC Force Overclocking Motherboard Review
Author:

Dennis Garcia
Published:
Wednesday, October 29, 2014

Gigabyte Hardware Overclocking Features
Benchtop buttons are something many companies have experimented with and can range from simple power and reset buttons to more advanced options that will control BCLK and provide voltage readings. Very few companies have been successful putting these controls onboard and will often resort to using complex software based solutions over USB or using external control boards to provide what overclockers need. There is no right or wrong way to provide advanced overclocking features however, if a company does choose to implement the feature it is important that they provide everything in one location and do so with and intuitive interface.
Gigabyte has provided an extremely robust advanced overclocking solution that is almost too complex to explain but, comes with a very simple name, OC Touch. OC Touch features a familiar power button followed by plus and minus buttons for multiplier and BCLK adjustments. The Gear button changes the stepping of the BCLK from 1 to .1 and Turbo brings back memories of single button overclocking on the original IBM PC. Finally the Tag button is a new feature that will load custom BIOS settings after a CMOS reset.
Along with OC Touch you'll find specialized buttons for boot to BIOS, reset, memory safe, settings lock and clear CMOS. The block of dip switches is a great feature for anyone running more than one video card and allows you to disable a PCI Express slot for debugging or benchmarking without having to physically remove cards.
While OC Touch is robust and fully featured the fatal flaw is complexity. For instance looking at the layout what button do you suppose will reboot the system vs resets the CMOS vs launching nuclear missiles??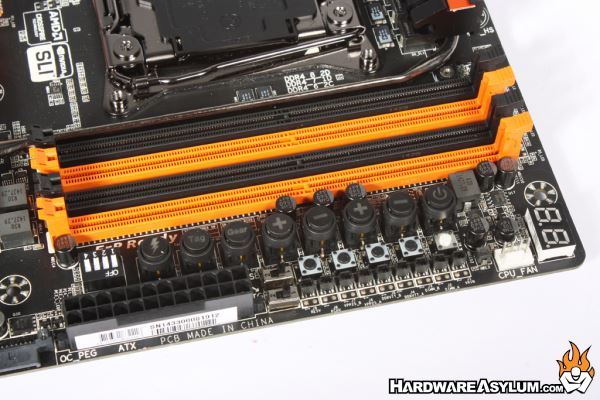 An often overlooked feature are the voltage read points, most of the time the value you set in the BIOS is carried thru and remains stable while the system is running but, every once in awhile you may encounter a voltage drop and need to know how much to compensate for. The voltage read point will give you that information and reacts in real time. Gigabyte has provided two testing methods using the included VOM probes or surface pads on the PCB.
On previous OC motherboards the ever important DEBUG LED was located behind the 24pin power connector and was pretty much obscured from view. On the X99 SOC Force edition the DEBUG has been moved to the top of the motherboard and easily viewable from any direction.