Gigabyte X99 SOC Force Overclocking Motherboard Review
Gigabyte X99 SOC Force Overclocking Motherboard Review
Author:

Dennis Garcia
Published:
Wednesday, October 29, 2014

Included Goodies
We have come to expect certain things when we buy an overclocking motherboard and while a SATA cable and manual are all we really need we like getting more stuff. The extras help to justify the additional cost and sometimes go towards padding the parts bin with replacement cables and video card bridges. Gigabyte has included everything you see below which includes six braded SATA6 cables (with locks), voltage test leads, manuals, driver disk and several SLI bridges and a single ribbon style Crossfire bridge.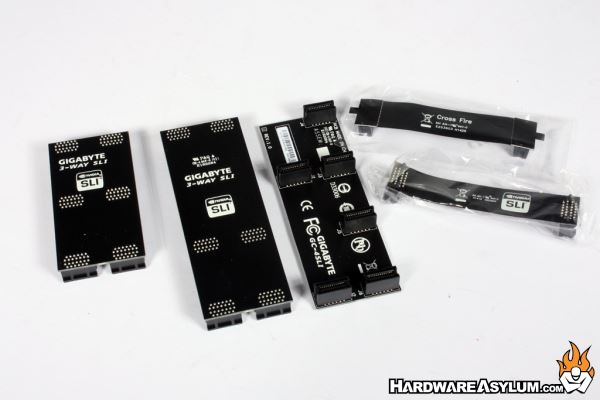 One thing we have noticed is that most extreme overclockers lack a proper test bench when running LN2 and prefer placing their motherboard down on a box or salvaged motherboard tray. While these work great for supporting the motherboard they do very little to properly orient the video card. This is where OC Brace comes in handy.

OC Brace is a bolt on card retention bracket that allows you to properly secure video cards when you are without a proper test bench or are working outside of a case. This is a great included feature and we suspect will eventually fetch a high price on the black market.
You will notice that Gigabyte has included two different 3-way SLI bridges which are CPU specific and shouldn't be mixed up.