Asus Rampage IV Extreme Motherboard Review
Asus Rampage IV Extreme Motherboard Review
Author:

Dennis Garcia
Published:
Monday, April 23, 2012

Board Layout and Features Cont.
24pin ATX power is located in the traditional location near the upper edge of the motherboard and out of the primary airflow. There are two 12v CPU power connectors located up near the PWM cooler, the first is a standard 8 pin connector followed by a 4 pin connector.
Near the memory sockets you'll find a variety of bench top controls including power, reset and memory GO button. Voltage test points come standard on ROG motherboards and will allow you to sample all of the major voltages either with the included test leads or via surface pad.

PCI Express disable switches are located nearby and aid in multi GPU troubleshooting by allowing you to disable all of the PCI Express lanes going to that slot. Finally, you'll find a single slow mode switch and LN2 jumper located below the Debug LED. These help remedy the CBB and allow the system to boot at extremely low temperatures.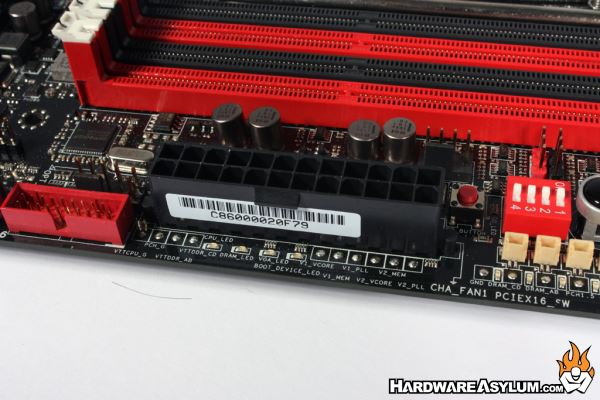 There are actually several ways you can debug system issues on the Rampage IV Extreme. First is the tried and true digital Debug LED located at the top of the motherboard. This will allow you to watch the POST codes as the system is booting. For us this is the most valuable since you can watch the system work. Next you have the four status LEDs located under the 24pin power connector called Q LED, these light up as the four major components are tested, if the POST stops you look to see what LED is active and that is where your problem is.

Internal SATA connections number eight. The black connections are SATA3 spec while the red connections follow the new SATA6 connection standard direct from the X79 chipset and onboard ASmedia controller.
Next to the SATA connections you will find a strange looking block with four slotted holes. These are the two subzero Sense connectors which will accept a K-type thermal probe and display the temperature using any of the Asus monitoring options. (OC Key, UEFI and/or TurboV EVO)

Overclockers working with LN2 and DICE (Dry Ice) will use K-type probes to monitor the temperature of their cooling containers. Normally this requires an external thermocouple to display the temperatures but with Subzero Sense you can monitor and record temperatures right from the Rampage IV Extreme and leave your thermometer in the box.