Asus Rampage IV Extreme Motherboard Review
Asus Rampage IV Extreme Motherboard Review
Author:

Dennis Garcia
Published:
Monday, April 23, 2012

Multi GPU Index
The Ninjalane Multi-GPU index is a portable set of data we can use to determine the multi-gpu potential of any motherboard. A higher index number indicates a favorable condition for multiple graphics cards while a lower number indicates a hindrance in one of our leading indicators. Since the Index is not dependent on system architecture it can be applied to any motherboard regardless of processor or chipset generations.
Multi-GPU Scorecard
Index: 6.5
Optimized: 2x
Max Support: 4x

Technologies Supported
NVidia SLI
AMD Crossfire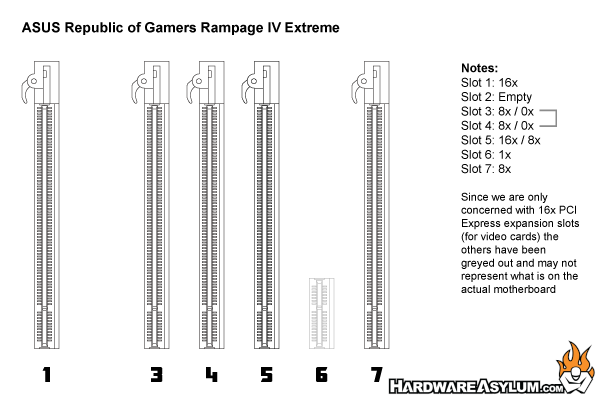 The Rampage IV Extreme is a very unique motherboard in that Asus has utilized all 40x PCI Express lanes and made the layout versatile enough to create optimal placements in 2-way, 3-way and 4-way video card configurations. Slot one remains fixed at 16x lanes while the remaining slots get their share of 8x lanes each. To remain flexible in video card positioning slots three and four share the same 8x lanes of bandwidth and determine preference based on color, and of course, red wins.

This motherboard will support up to four graphics cards and is optimized for dual card operation. For best video performance you will want to populate slots one and five and enjoy the triple slot spacing. If you choose to run more than two video cards you are free to place them anywhere they will get the best cooling and enjoy unrestricted performance.

Here we have a couple more Multi GPU features including extra PCI Express power options located up near slot one. A 6pin PCI Express power connector provies extra power to the PCI Express slots and is recommended when overclocking or using three or more high powered GPUs at once. The 4pin Molex connector provides extra power to the memory slots much in the same way.

Motherboard cooling is always an issue and the R4E uses a large network of heatpipes to keep the system cool. As we know heatpipes work on a temperature differential and will move heat to the coldest region. To help keep the engine running you'll find a fan on the chipset cooler located at the bottom of the motherboard. We mention this because with most systems only come with a single flat heatsink which is often starved for air when running two or more GPUs at once.