Asus Rampage IV Extreme Motherboard Review
Asus Rampage IV Extreme Motherboard Review
Author:

Dennis Garcia
Published:
Monday, April 23, 2012

OC Key - Onscreen Overclocking Control
OC Key is a hardware attachment that is derived from the ROG Connect technology and allows you to see and interact with your system without needing a secondary system. The OC Key attaches to any DVI port on your graphics card and overlays system information on top of your standard display, regardless of what is running.

It is also interactive. With a few key presses you can drill down the menu system and see the current stats or change them as needed, and on the fly. There are several benefits to using the OC Key including OC tuning that doesn't impact system performance (like the USB based ROG Connect) and since this is hardware based connection you only need to have the system powered on to use it.

The key is quite large but smaller than a standard desktop mouse. It connects to any DVI port and is fed information thru the OC Key connection cable which plugs into an OC Key header on the motherboard. A firmware image controls interaction with OC Key which can also be updated using the ROG Connect USB cable.

Below are some screens of OC Key menus in action.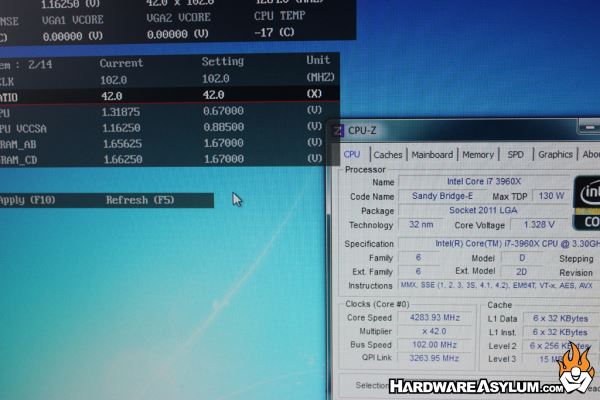 The last screenshot shows us overclocking the system on the fly from the standard multiplier of x39 up to x42 with less than ten key presses.