ASUS Rampage VI Apex Overclocking Motherboard Review
ASUS Rampage VI Apex Overclocking Motherboard Review
Author:

Dennis Garcia
Published:
Wednesday, October 11, 2017

Benchmarks - Overclocked
One of the unique things in our reviews is the overclocking aspect where we pit the default speed system against the overclocked one in a head-to-head byte match. This means I take the basic configuration and tweak it for better performance and have been known to do this on a Water, Single Stage Phase and sometimes LN2. As you can imagine the results can vary and may not reflect what a normal person can attain on a 24/7 basis.
The effective overclock is 4.5Ghz with a straight multiple adjustment of 45x and no manual changes to system voltage. I also enabled XMP for a little extra memory performance.
An interesting thing about the X-Series processors is that while on the box it says 3.3Ghz in reality it scales much higher. The Core i9 7900X featured in this review will turbo up to 4.3Ghz and with the ASUS multicore optimizations this system hit 4.5Ghz on a regular basis. The only major difference is that to attain a higher CPU clock and not generate too much heat the AVX instructions are handled at a much lower clock speed. So while my 4.5Ghz manual overclock may sound pretty darn weak it is until you start running AVX benchmarks or have a mult-threaded benchmark that can benefit from the extra core speed.
CPUz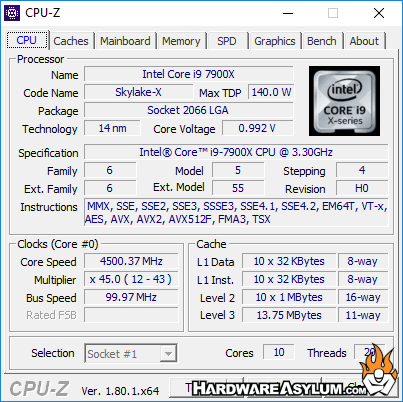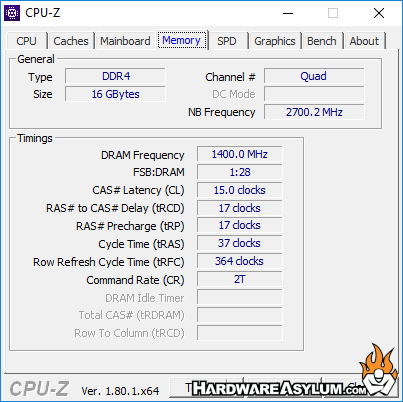 SiSoft Sandra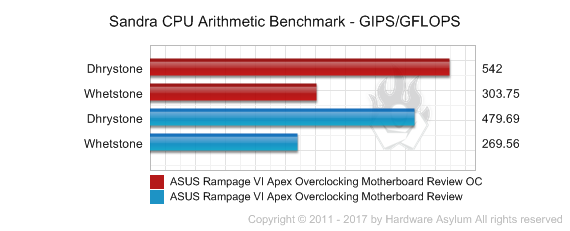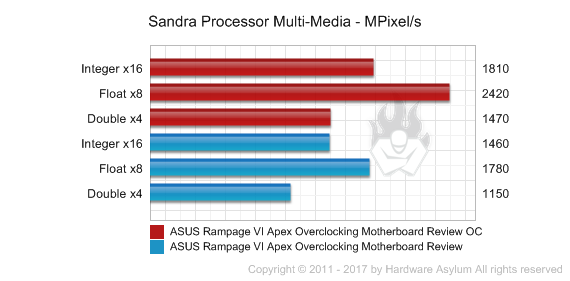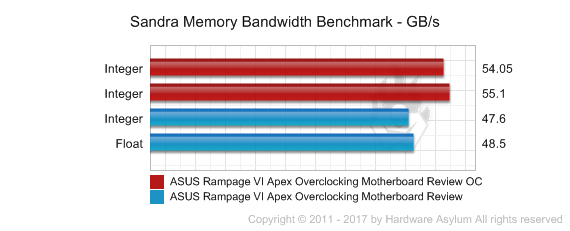 Unreal Tournament 3

Call of Duty 4 Modern Warfare

Futuremark PCMark 7

Futuremark PCMark 8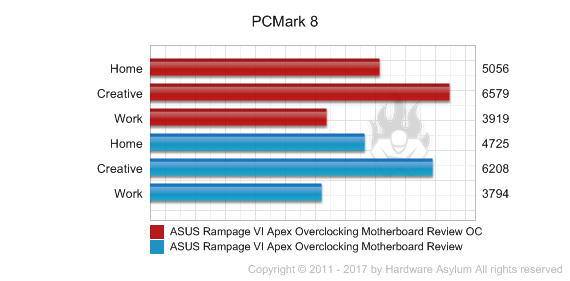 Overclocking Conclusion
The ROG Rampage VI Apex is a very capable overclocker and cranking my Core i9 7900X on an AIO watercooler really doesn't do it justice. Not only does it regularly hit 90C+ when overclocked but the lack of real thermal compound under the heatspreader really limits the potential of the entire platform. What was really annoying is that while the ASUS multicore optimizations really increased the out of box performance it does so with an excess of core voltage though the BCLK voltage compensation. This is why the CPU would high 90C when running AVX benchmarks and once I disabled that overall temperatures dropped.
Unfortunately it didn't help stability and really became a limiting factor. In terms of overall performance I am still impressed with the mild tune and fully agree that a Core i9 7900X matched with 3600Mhz+ memory is really a winning combo. You'll get more memory bandwidth and virtually remove the need to manually overclock the processor.
In the future I really look forward to running this motherboard on LN2 and using some of the LN2 specific features like the cold bug compensation switch and some soldering tricks to get better scores.