ASUS Rampage VI Apex Overclocking Motherboard Review
ASUS Rampage VI Apex Overclocking Motherboard Review
Author:

Dennis Garcia
Published:
Wednesday, October 11, 2017

Onboard and Included Features
The I/O panel is rather self explanatory with just the right amount of connections. Staring at the left you will find a CMOS reset button sitting atop of a CMOS Flashback that allows you to flash the BIOS without actually entering the BIOS menu. Next you'll find WiFi antenna connections followed by two PS/2 ports for keyboard and mouse. You might be asking "why PS/2" Well these are good for 2D benchmarking since USB controllers take CPU cycles to operate.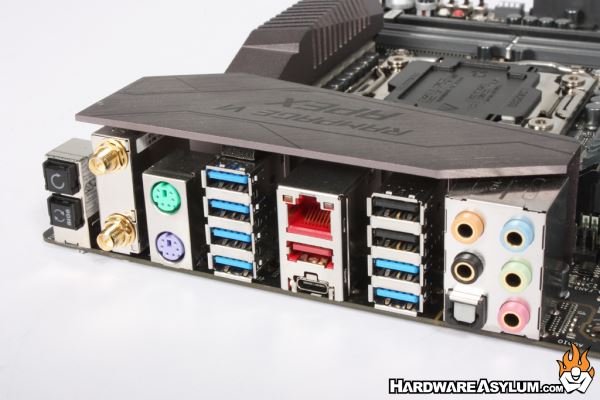 You will find a total of 10 USB connections. Six are 3.0 (in Blue), two USB 2.0 (in black) while the Type-C and Type A in red are USB 3.1. A single Gigabit Ethernet provides network access.
Onboard Audio
The onboard audio solution found on the Apex is an ROG SupremeFX controller supporting up to 8 channels with a digital connection over optical. Like most of the high-end motherboards you'll find some specialized audio capacitors near the controller.
This might have been a thing for awhile now but I'm actually impressed that they are using their own audio controller on motherboards now instead of slapping something else onboard and calling it good.
It would seem that the whole "separated audio" experience has been played out. I'll be the first to admit that having a gap on the motherboard is kinda pointless but it does help give the marketing folks something to talk about. On the Apex the audio separation is there and runs most of the way up the board which seems to be a timid attempt at keeping up with what others are doing.
Included Goodies
We have come to expect more goodies from our high-end motherboards to help justify the additional cost. ASUS includes some really good stuff with their motherboards and with the Apex you'll get just enough to get you up and overclocking like a champ.
In terms of documentation you will get very healthy users guide which will help you locate all of the key components on the motherboard and even help troubleshoot POST codes in the event you have problems booting.
An ROG branded I/O shield is also included along with three SLI bridges supporting 4-Way SLI, 3-Way SLI and a single HB SLI bridge for 2-way configurations. As we all know starting with the NVidia Pascal GPU SLI is done over an High Bandwidth SLI bridge that uses both sets of SLI fingers on the video card.
You will also get a nice sticker sheet with some fancy ROG logos along with a drink or LN2 flask coaster to protect your desk. Of course with WiFi being available onboard you'll get a remote antenna for extra range.
The final item is the mystery of the metal brackets. These are actually so you can mount cooling fans to the DIMM 2 cards to help keep your M.2 drives cool under the highest of loads. Eventually we might get "good" NVMe heatspreaders and until then a little airflow does the trick.