ASUS Rampage VI Apex Overclocking Motherboard Review
ASUS Rampage VI Apex Overclocking Motherboard Review
Author:

Dennis Garcia
Published:
Wednesday, October 11, 2017

Board Layout and Features Continued
The upper right section of almost any motherboard is typically dedicated to all things related to overclocking and the Apex is no exception. In fact there is a lot going on here and I'm likely going to miss something so, let's break it down.
X-Series processors are a little different from other HEDT systems in that depending on the CPU you may have a different PCI Express count, memory speed support and even the number of memory channels can change. Because of this it is important to consult the manual to know exactly where to install memory modules and what slots may become inactive.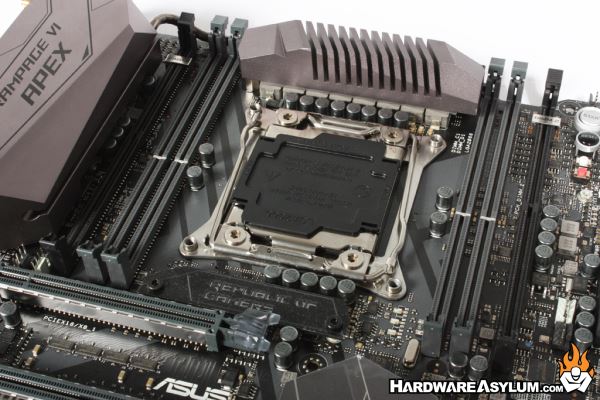 The ASUS Rampage VI Apex supports standard speed DDR4 modules at 2133Mhz with overclocking support up to 4500Mhz depending on your processor selection. A maximum of 64GB is addressable on quad channel models while only half that is available in dual channel mode. You will notice that the motherboard only has four memory slots and this is an important feature which makes running memory modules in excess of 4000Mhz+ possible.
In the location normally occupied by the other two memory sockets you will find a long slot called "DIMM 2" and is a dedicated slot designed to support two M.2 SSD drives using a special expansion card. Much like with memory the DIMM 2 availability is dependent on your CPU selection.
Benchtop controls are located in the upper right section of the motherboard and feature standard power and reset buttons along with several complex features like ReTry that is beneficial during overclocking when the reset button isn't working.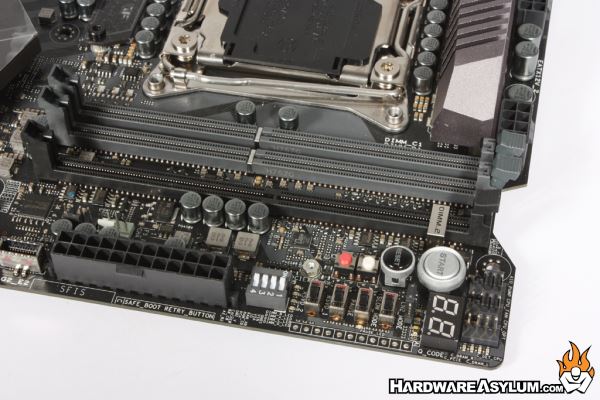 We have all seen PCI Express disable switches before and they are great for debugging and when you are running a multi GPU benchmark sweep and want to simply disable a card. Next to the bank of four PCI Express disable switches you'll find a few more switches for enabling LN2 mode, slow mode for dropping the system into BCLK idle mode and a pause button which can be best described as a way to stop the system from running.
Voltage test points, debug LED can help the overclocking effort while the LN2 switch can eliminate the cold bug present in certain CPUs by allowing more CPU PLL voltage to be fed to the processor.
Lastly there are fan headers scattered across the entire motherboard, 12 in total. One in particular caught my attention called W_PUMP+ located at the bottom of the board. This header supports 3A of current and 36W making it perfect for DIY watercooling installs using a D5. You'll also find a thermal probe header along with a bunch of RGB headers allowing you to control a multitude of light strips using the onboard controllers.
DIMM 2 Card
Next to the memory sockets you will find two DIMM 2 slots which are dedicated connectors for PCI Express based M.2 drives. The riser card supporting these drives is pictured below.
DIMM 2 is double sided and supports a variety of M-Key M.2 drives up to 22110 in length. While the DIMM 2 card is very creative is has a side benefit of removing the drives from being between the PCI Express slots where they can be exposed to frost and condensation while overclocking and also opens the area up for custom LED lighting effects.
Of course for those of you not yet on the M.2 train a total of six SATA connections are available along with a two USB 3.0 headers and a front panel USB 3.1 v2 plug next to the 24-ping power connector. The Rampage VI Apex comes with two USB 3.0 controllers. One embedded into the X299 chipset while the other is a controller supplied by ASMedia.
What I really find amazing is how well ASUS is playing off the special Apex PCB design. For instance the six SATA connections are set perpendicular along the angled edge of the board allowing your SATA cables to exit at a different angle and create some interesting visuals and even ties in nice with the chipset heatsink.