ASUS Rampage VI Apex Overclocking Motherboard Review
ASUS Rampage VI Apex Overclocking Motherboard Review
Author:

Dennis Garcia
Published:
Wednesday, October 11, 2017

Conclusion
In this review we looked at the ASUS Rampage VI Apex. After having used this motherboard for the past several weeks I have come to two conclusions.
This is a motherboard has clearly been designed for the Overclocking Enthusiast who knows exactly what they want and isn't afraid to burn up a processor or pour a little LN2.
This is also a motherboard designed for the PC Hardware Enthusiast who many not do extreme overclocking but builds high-end systems with the intent of getting the most performance by using the best hardware.
As you may expect the motherboard performed extremely well with solid performance out of the box and while overclocked. This is thanks in part to a few ASUS tweaks for multi core performance and higher than expected Turbo clock. These results are not uncommon for a product that is designed to be used in extreme conditions but, the execution is often a deciding factor. I have used plenty of motherboards like this in the past and while they may say overclocking on the box many of the controls are designed for the in-house overclocker with no real documentation. The ASUS Rampage VI Apex is different. Not only do you get all of the features and controls you need to be successful in your overclocking adventure but you also get help documentation in the UEFI, detailed information in the manual and a plethora of user generated content online, most of which is generated by ASUS employees.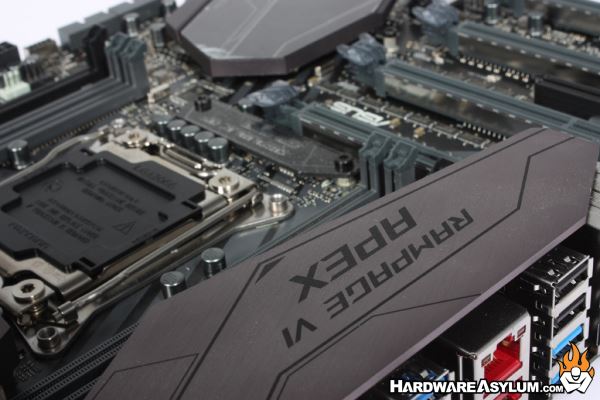 The UEFI layout is quite good and displays exactly what you need to see. I will be the first to admit that the single page "Extreme Tweaking" page in the UEFI can be a little confusing it isn't so bad once you find the feature you are after. Of course once you have adjusted a setting it shows up on the "My Favorites" page giving you easy access to whatever you just changed. This is an important feature given that many manufacturers tend to overcomplicate the interface by trying to show "everything" or do the opposite and hide everything in a list of complex menus.
When it comes to overclocking I found the Apex to be very responsive both manual and some automatic adjustments with the exception that many X-Series CPUs tend to run exceptionally hot. This excess heat tends to limit overclocking and in my case only allowed me to hit 4.5Ghz when the optimized "Turbo" speed was 4.5Ghz. In terms of performance the system was stable through the benchmarking process despite having a high level of CPU core voltage due to the BCLK voltage adjustments.
Overall I really like this motherboard. It has great style and a very innovative design with the most notable being the unique shape of the PCB and the two DIMM 2 slot for M.2 drives. PCI Express and M.2 usage will depend heavily on your CPU selection and how many drives you plan to run. As was mentioned before the ASUS Rampage VI Apex is designed for overclocking and enthusiast use, it appears to favor the high-end hardware enthusiast given the onboard Wi-Fi and Bluetooth but is equally at home supporting LN2 overclocking and even comes with special hardware just to help make that a smooth process.
Of course you cannot forget about RGB lighting and the ASUS Aurora lighting control. This is a software based controller that not only controls the onboard lights but is expandable to independent RGB light strips, memory modules and even external peripherals such as keyboards and mice.
Good Things
Black Color Scheme
Oversized VRM Heatsinks
Unique Motherboard Shape
Excellent UEFI Menus
Flexible PCI Express Layout
4000Mhz+ DDR4 Performance
Dual DIMM 2 M.2 SSD Card
CLEAN Audio
LED Strip Header(s)
Excellent Overclocking
Excellent Voltage Control
Bad Things
I'm not sure there are any
Hardware Asylum Rating