ASUS Strix Z690-E Gaming WiFi Motherboard Review
ASUS Strix Z690-E Gaming WiFi Motherboard Review
Author:

Dennis Garcia
Published:
Saturday, December 4, 2021

Conclusion
Intel has been on fire lately with their processor releases. In April of 2020 we welcomed the launch of Comet Lake and the Z490 chipset. This was a pretty big launch as it marked the end of the HEDT processor and a massive increase in performance for the smaller mainstream package. Then, about a year later we get the launch of Rocket Lake. While most enthusiasts discredited this processor it brought PCI Express 4.0 to the Intel platform and was a very strong overclocker.
In the midst of the Rocket Lake launch there were rumors of a new and more powerful processor on the horizon. Of course, as hardware enthusiasts we have heard these claims before and begin to watch with cautious optimism. Then rumors leak that not only is there a new processor but, it will be paired with a next generation memory type. As many of you remember it has been 7 years since DDR4 launched and quickly reached its performance potential but, not before setting some records and aging like a fine wine.
In this review we looked at the ROG STRIX Z690-E Gaming WiFi motherboard. This is a top of the line motherboard in the STRIX series supporting the new Z690 chipset and Alder Lake CPUs. Just about everything has changed with this launch. We have a new and larger CPU socket, DDR5 memory support, new heatsink mounting pattern and PCI Express 5.0 onboard.
Despite the plethora of changes the layout of the motherboard remains largely the same and has he same ASUS ROG performance and feeling. The UEFI layout is quite good and displays exactly what you need to see. This is an important feature given that many manufacturers tend to overcomplicate the interface by trying to show "everything" or do the opposite and hide everything in a list of complex menus. The ASUS UEFI is very straight forward showing you the current state of your system while giving you appropriate menus to make adjustments. I will admit the menus can get excessively long and some settings are easy to miss as a result.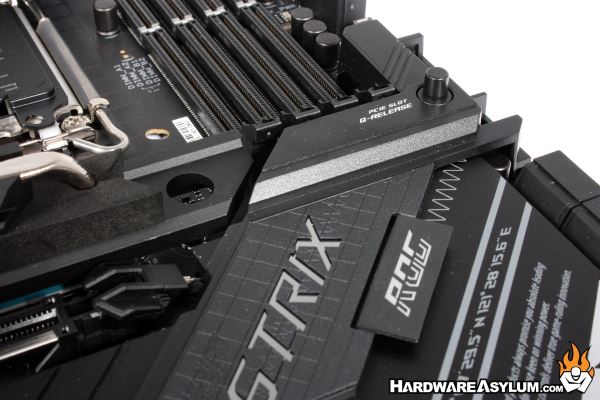 From a performance standpoint the new Z690 and Intel Core i7 12700k are pretty amazing. The new CPU comes with 16-cores split across two profiles in a hybrid configuration. Performance cores handle high-performance loads such as gaming and running benchmarks while the efficiency cores are designed to be power efficient and handle low demand and background activities. Together they create an efficient package that seamlessly integrates the performance patterns without having to massively alter the CPU Frequency and lowering overall latency.
There are a few quirks with this motherboard worth mentioning. The topmost M.2 drive position supports PCI Express 5.0 and NVMe. To help control heat there is a large heatsink attached to the end of a heatpipe just sticking out of the motherboard. I understand the reason behind the new design but, it has to be the stupidest thing I have ever seen and not only is it an accident waiting to happen but I question if it is any better than just adding some fins to the existing heatspreader.
The motherboard supports the ASUS Aura ARGB lighting system and aside from a multi colored panel on the I/O cover the motherboard is devoid of any RGB lighting. You will get two sets of ARGB and RGB headers for syncing your lights with additional components leaving the motherboard to be otherwise dark.
I do like how ASUS has included support for both the new and old heatsink mounting systems and find that to be one of the best features of this motherboard for those looking to upgrade and the mechanical button for releasing your video card is a smart addition.
Overall, I am very impressed with the ASUS ROG Z690-E Gaming WiFi. The performance was amazing and the control I was given to tweak and tune the system is exactly what you would expect from Republic of Gamers. If you are looking to build a solid gaming rig using the 12th generation Alder Lake CPUs you deserve checking this motherboard out.
Good Things
Next Generation Design
Solid Performance
Dual CPU Heatsink Support
DDR5 Loves to Overclock
ASUS HyperCard Storage Expansion
Supports Three M.2 Drives
PCI Express 5.0
Bad Things
Lack of onboard RGB
NVMe cooler is just strange
No benchtop controls
Takes a really really long time to boot up
Right now components are hard to find
Hardware Asylum Rating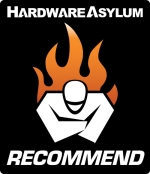 ASUS Strix Z690-E Gaming WiFi Motherboard Review
Recommend
https://www.hardwareasylum.com