ASUS Strix Z690-E Gaming WiFi Motherboard Review
ASUS Strix Z690-E Gaming WiFi Motherboard Review
Author:

Dennis Garcia
Published:
Saturday, December 4, 2021

Board Layout and Features Continued
Dual channel memory comes standard on the Alder Lake processor and the STRIX Z690 E Gaming Maximus XII Hero supports standard speed DDR5 modules up to and beyond 6400Mhz. This will depend on your module choice and processor quality but, be humbled the board can handle it. A maximum of 128GB is addressable with the proper module density.
Benchtop buttons are absent on the STRIX Z690 E however the POST code display remains allowing you to watch the codes as the system boots AND see the CPU temperature if correctly set in the UEFI.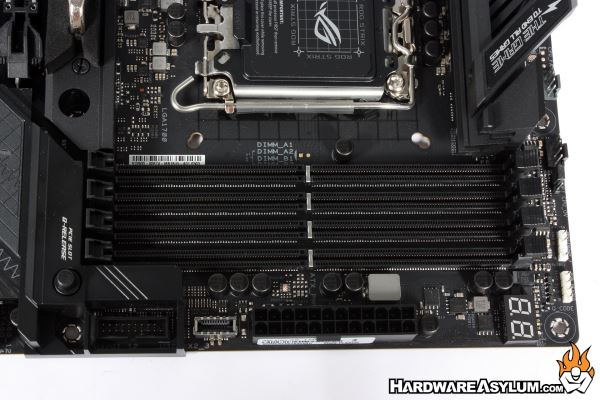 Along the left side of the above image, you will notice a "post" which is intended to be the mechanical PCI Express release button and will activate the release latch allowing you to remove the PCI Express card from the topmost slot. No more hunting around for a bamboo skewer to remove your video card.
Internal SATA connections number six and follow the new SATA6 connection standard. Next to the SATA connectors you'll find a standard USB 3.0 header along with two 4-pin fan headers to the left.
Modern storage solutions have started to favor M.2 drives due to their size and the exceptional speed of NVMe. The STRIX Z690 E Gaming supports a total of Three M.2 slots on board and different PCI Express speeds depending on what slot you have populated. Also, onboard M.2 slots can become disabled when populating certain expansion slots with cards.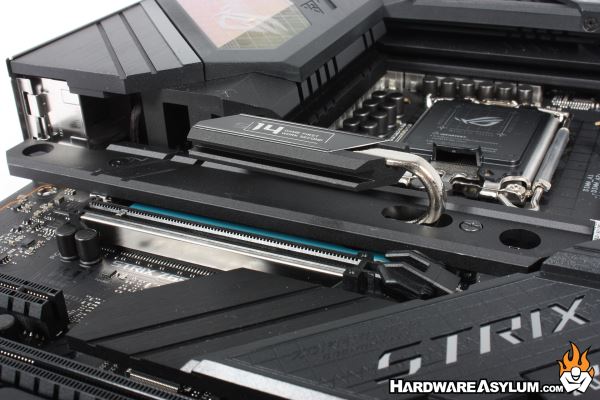 In addition to the three onboard M.2 slots you will find the ASUS HyperCard included with the STRIX Z690 E that supports two additional M.2 drives and are subject to the same PCI Express bandwidth limitations depending on "where" the card is installed on the board. Some slots only support PCI Express 3.0 while others support PCI Express 5.0 or 4.0
The topmost M.2 drive position supports PCI Express 5.0 and to help support drives running at these enhanced speeds you will find a special cooler with an integrated heatpipe to ensure the fastest operation of your NVMe SSDs.
Be sure to remove the plastic covers from the thermal pads if you plan to use one or all of the M.2 slots. Your drives will thank you.