Aorus Radeon RX 570 4G Video Card Review
Author:

Dennis Garcia
Published:
Friday, May 26, 2017

Conclusion
In this review we looked at the new Aorus Radeon RX 570. This is a card based on the revised Polaris GPU architecture that was first introduced with the RX 400 series. The RX 500 series uses the same basic chip but has increased the clock speed for better performance and Aorus matched it with a custom PCB and Aorus gaming Windforce 2 cooler and backplate. Long time readers of Hardware Asylum will know I tend to favor hot clocked and factory overclocked video cards because of the wide range of performance potential. The Aorus Radeon RX 570 doesn't disappoint and even features a binned GPU through the GPU Gauntlet Sorting program.
Overall the Aorus RX 570 performed quite well and held its own against the reference cards including the high-end Sapphire R9 Fury and primary competition the GTX 1060. I cannot say it was the fastest card in this review but, for the price and consistent performance there is no reason to complain.
There are several advantages associated with custom coolers most notable being better cooling. The Windforce 2X features dual cooling fans and a separated cold plate for both memory and VRM. This can ensure that GPU heat is handled quickly and is not influenced by other components on the card. The cooler also features its own RGB lighting system and a light dedicated for when the fans are active. They also spin in opposite directions which I can only assume is to cancel harmonic noise and lower speeds to make the card quieter.
Overclocking performance was better than expected. Of course the card comes factory overclocked with a core speed of 1280Mhz up from the factory 1168Mhz and 1244Mhz boost. Funny thing about boost, at no time during this review did I notice the card "boosting" sure it ramped down at idle but always ramped up to the 1280Mhz number and ran solid at that speed. All of the factory clock speeds are controlled by the Aorus Graphics Engine Software and at the press of a button you can switch between three pre-programmed modes or dial in your own settings.
To be honest I really felt the 15Mhz "overclock" profile wasn't all that great so I decided to turn the screws and ended up with a 1400Mhz core clock followed by a 2100Mhz memory clock. Given that the memory multiplier is 4x that works out to be 8400Mhz memory speed! While the resulting overclock is really impressive it didn't translate into a noticeable boost in game performance and only marginal gains in our synthetic benchmarks.
Good Things
Windforce 2X Heatsink
Excellent Overclocking
Included Backplate
RGB Fusion Lighting
Great PCB Design
Binned GPU
Bad Things
Backplate gets really hot whlie gaming
Hardware Asylum Rating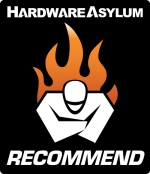 Aorus Radeon RX 570 4G Video Card Review
Recommend
https://www.hardwareasylum.com