Aorus Radeon RX 570 4G Video Card Review
Author:

Dennis Garcia
Published:
Friday, May 26, 2017

Card Layout and Features
Aorus rarely releases a video card without including a custom cooler and this card is no exception. The Aorus RX 570 comes fitted with the Windforce 2X dual fan heatsink with a black and orange color scheme. The fans feature the Windforce blade design for better airflow and if you look carefully you will notice that they do not spin in the same direction. The fan on the left spins in the normal direction while the other has its blades reversed.
Flipping the card around you will find a very stylish aluminum backplate to help protect and reinforce the PCB. It also helps to soak up some excess heat but, cannot dissipate it very well. Directly behind the GPU you'll find a copper cold plate that pulls heat from the backside of the GPU and is technically separated from the rest of the backplate.
Video output is comprised of a single DVI-D video output combined with a three Display Port connections and a single standard HDMI. These connections are pretty standard across most modern graphics cards and allow you flexibility in how you connect multiple displays and/or a VR Headset.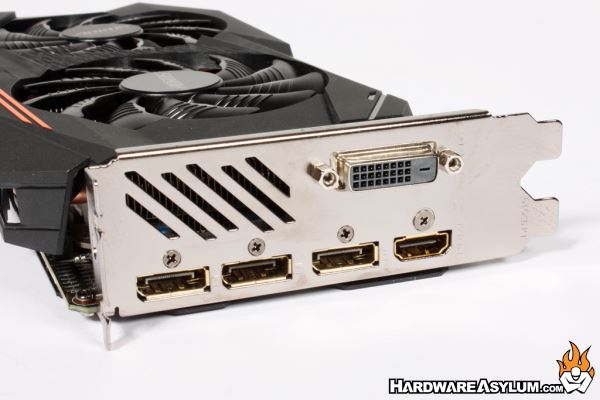 RGB lighting effects have become very popular over the past year and the Aorus Radeon RX 570 Windforce 2X cooler features two RGB lights across the top edge of the cooler. The first is behind the Aorus logo and by default will cycle though the RGB spectrum. Next to that you will find a "Fan Stop" light that mimics the color of the Aorus logo but will turn off when the fans are enabled.
Power is comprised of a single 8pin PCI Express power connector located in the normal position.