Sapphire Nitro Radeon R9 Fury Video Card Review
Author:

Dennis Garcia
Published:
Thursday, January 21, 2016

Conclusion
Choosing the right component can be a a bit confusing. For those on a budget questions like "bang for buck" and "best for this" seem to come up quite often. For the hardware enthusiast cost is usually not a deciding factor but comes into play later in the purchase process. The real question is why are these things important?
When looking for a new video card many folks simply look at specs. The Sapphire Nitro R9 Fury featured in this review has some really impressive numbers. 3584 Stream Processors, 1050Mhz Core Clock, 4GB of video ram and a 4096-bit memory bus. These numbers are way better than the competition and tend to attract a lot of attention. On top of that the AMD Fury also supports a whole list of beneficial features like AMD Crossfire, FreeSync Technology, AMD Eyefinity, DirectX 12, AMD LiquidVR, 4K and, the list goes on. Overall this is a rather attractive product if you look at the specs.
For those looking to take advantage everything the R9 Fury has to offer do you sell yourself short and pick a vanilla reference card with only the basic features or do you hold out and see what the AMD partners can improve on.
For the true enthusiast you wait.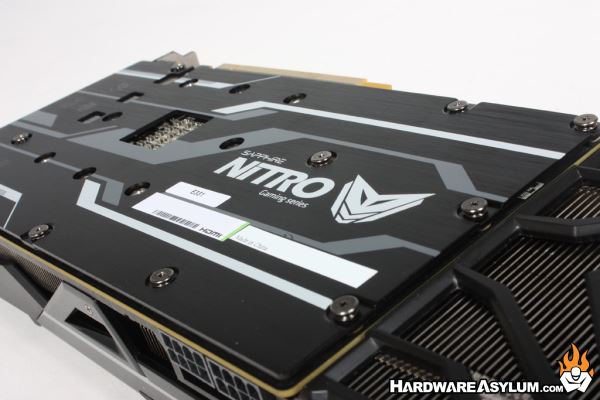 In this review we looked at the Sapphire Nitro Radeon R9 Fury and simply put I was impressed. The custom PCB performed extremely well comes hot-clocked from the factory to match the frequency of the R9 Fury X. Cooling is supported by the Sapphire triple fan Tri-X cooling solution with dual ball bearing fans to ensure quiet operation.
One of the benefits to having such a large cooling solution is that it almost becomes a passive cooler under the right environment. For instance when the system is at idle the fans will turn off completely and often remained that way during part of our benchmarking run until the core temp hit about 55c and even the wouldn't need to spin very fast.
Performance was better than expected and the Nitro posted some impressive benchmark numbers. I'd be lying if I said this was the fasted card I have ever tested however, the Sapphire Nitro did perform better than an overclocked GTX 980 in a number of our benchmarks and responded well to overclocking.
We did run into a few issues during our overclocking session where core clocks would randomly reset or remain set after a reboot. These were eventually we sorted out and were able to have a fast and stable overclock with a simple profile click.