EVGA Z270 Classified K Motherboard Review
EVGA Z270 Classified K Motherboard Review
Author:

Dennis Garcia
Published:
Friday, February 03, 2017

Board Layout and Features Continued
Dual channel memory comes standard on the Kaby Lake processor and the Z270 Classified K supports standard speed DDR4 modules up to 2133Mhz with overclocking support beyond 3600Mhz. A maximum of 64GB is addressable with the proper module density.
Benchtop controls are located in the upper right of the motherboard next the memory slots and near the 24 pin power connector. These consist of power, reset and CMOS clear. Nearby you'll find a dual purpose debug LED that reads off post codes during boot and later relays CPU temp.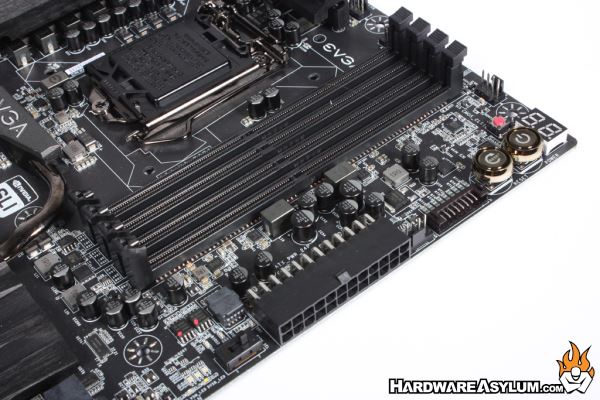 Some additional overclocking features are available including triple BIOS with a selector switch, DEBUG LED lights showing the status of different motherboard components and voltage test points using the EVGA Probe-it Cable.
Internal SATA connections number six and follow the new SATA6 connection standard. Two of the standard SATA6 ports are dedicated to SATA Express from the chipset. There are four additional SATA ports to the right that are controlled by an onboard Marvell controller.
The Z270 chipset comes with 24 PCI Express 3.0 lanes which happen to be more than you get from the Kaby Lake processor. Unlike the lanes coming from the processor the chipset PCIe is intended for connectivity and storage. You will find a total of three M.2 slots on the motherboard with an interesting formula to determine bandwidth and what is disabled during use. The upper Key-M shares bandwidth with the onboard U.2 sockets while the lower Key-M shares with the onboard SATA controller. Key-E, along the left, is shorter and limited to 1x PCIe lanes but also pure PCI Express.